A man suspected of driving drunk when he crashed into a couple jogging in Vista -- killing a husband and father of five -- will appear in court for the first time Tuesday.
Abraham Juarez Perea, 24, of Oceanside, was behind the wheel of an SUV on June 2, allegedly driving under the influence of alcohol and speeding, when he lost control of his vehicle along the 1500 block of South Melrose and Shadowridge drives.
His SUV hopped a curb, plowing into a couple out for a jog, husband and wife Nanglee and Molly Vang.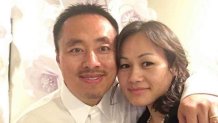 Nanglee, 40, a beloved stay-at-home father of five, was killed in the suspected DUI crash. He was one day shy of his birthday.
According to the victim's family, in those terrifying moments when Perea's SUV was heading for the couple, Nanglee pushed his wife out of the way, taking the deadly brunt of the impact.
Molly was seriously hurt in the crash, suffering a broken collarbone, broken ribs, wound to her head and a punctured lung. She remains hospitalized.
The couple has five children, ages 2 to 16.
The family has set up a GoFundMe to help with medical and funeral expenses. To donate, click here.
Perea's mangled SUV wound up on its roof, the bumper and other pieces of the wreckage strewn about the roadway. Perea had to be pulled out of his car by emergency crews and was also seriously injured in the crash.
The suspect is scheduled to be arraigned Tuesday afternoon.