Department of Homeland Security Secretary Kirstjen Nielsen toured the U.S.-Mexico border Tuesday, speaking about the Trump administration's efforts to fortify the crossing amid what she called the migrant caravan "crisis."
Nielsen said there are currently 6,200 individuals with the migrant caravan camped out in Tijuana, Mexico, and another 3,000 in Mexicali. She said this would ultimately result in "8,000 to 10,000 migrants amassing" at our southern border.
"The crisis is real and it is just on the other side of this wall," Nielsen told reporters at Border Field State Park, the seaside park that sits at the southwest corner of the United States, with the Pacific Ocean to the west and Mexico's Playa de Tijuana to the south.
Following Nielsen's comments, the office of the mayor of Tijuana said there were 2,965 members of the caravan in the city. That figure, according to the mayor's office, includes 1,696 men, 637 women, 255 boys and377 girls.
For nearly two weeks, thousands of migrants have made their way by foot and bus from the southern border of Mexico to Tijuana, where many are living in overcrowded shelters until they can seek asylum from the United States.
'The Crisis is Real': Nielsen Warns of Migrant Caravan
In response to the caravan of migrants, the Department of Defense sent about 5,800 active duty, reserve and National Guard forces, including 1,100 Camp Pendleton-based Marines, to span the southern border to assist U.S. Customs and Border Protection in the reinforcing of the border.
This has included adding concertina wiring to the U.S.-Mexico border fence to keep migrants from climbing over the fence and into the U.S.
"This is a border wall with row upon row of concertina wire," said Nielsen. "Make no mistake – we are very serious. You will not get into our country illegally."
A Look Inside the 'Border Hardening' Efforts
The DHS secretary said the migrant caravan is not only comprised of women and children but rather of many grown men and teenage boys, some of whom have been violent in their efforts to reach the border. She said at least 500 "criminals" including gang members, have been identified among the caravan.
Nielsen said many of the migrants are attempting to travel into the U.S. to reunite with family members or seek jobs – neither of which warrant asylum under U.S. law.
"The caravan does not give one a special right to enter this country," Nielsen said, adding that migrants with the caravan will have to "get in line" when it comes to the asylum-seeking process.
The DHS secretary said President Donald Trump's administration was upset by a judge's recent ruling ordering the U.S. government not to enforce a ban on asylum for people who cross the southern border illegally.
Secretary Nielsen to See Border Security Efforts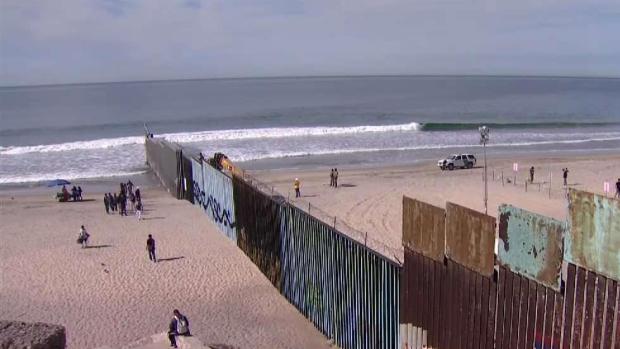 "This is a dangerous ruling and will undoubtedly be overturned," she added.
Nielsen said border security remains a top priority for the Trump administration and DHS will continue its efforts to stop the caravan from illegally entering the country.
"You will be detained, prosecuted and repatriated," she said.
Just before Nielsen arrived a man swam around the border fence that extends a few hundred feet into the Pacific Ocean and was met by Border Patrol agents at the beach on the U.S. side.
Nielsen said he was arrested for entering the country illegally.
Nielsen said she spoke with U.S. Secretary of Defense James Mattis Tuesday and the Department of Defense will continue to partner with the DHS until the caravan is stopped.
DHS Secretary Says Troops Will Stay at Border Until Migrant Crisis is Resolved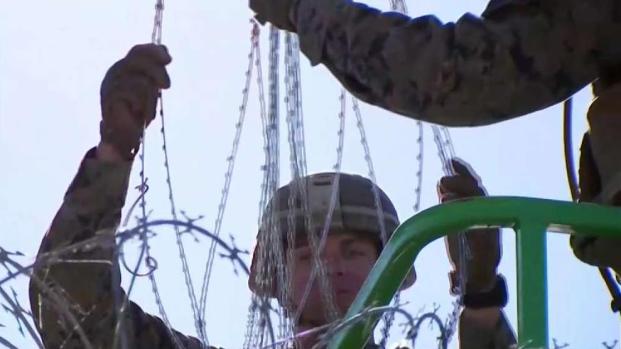 She said any asylum claims "will be treated with respect to the law."
On Monday, U.S. Marine Lt. Dustin Pavlick said his platoon of about 45 Marines was working on "construction and reinforcing this obstacle to support the mission of Customs and Border Protection."
"Our priority right now is to get a half a mile of wire on this wall," he said while giving NBC 7 and Telemundo 20 a look into their efforts near the San Ysidro Port of Entry.
Also on Monday, CBP temporarily shut down all northbound lanes into the U.S. at the San Ysidro Port of Entry so troops could position moveable barriers due to a report that a group of Central American migrants was trying to rush the border, according to CBP.
CBP Halts Traffic into US at San Ysidro Port of Entry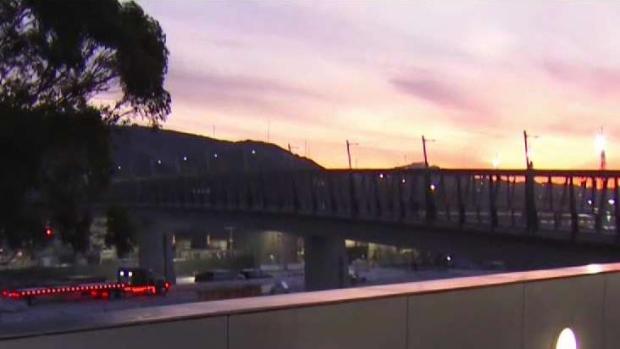 Though no activity materialized, the agency said the closure at the nation's busiest border crossing was needed.
Nielsen praised the efforts on Twitter saying, "@CBP and @DeptofDefense appropriately responded by blocking the lanes, deploying additional personnel and seeking assistance from other law enforcement and federal assets."
.@CBP and @DeptofDefense appropriately responded by blocking the lanes, deploying additional personnel and seeking assistance from other law enforcement and federal assets. #CBP has reopened lanes for legitimate trade and travel. I want to thank them for their swift actions. pic.twitter.com/eJVVuAs0w6

— Sec. Kirstjen Nielsen (@SecNielsen) November 19, 2018
The tweet was accompanied by a photo showing a line of helmeted border patrol agents carrying shields.
San Ysidro is the border's busiest crossing, with about 110,000 people entering the U.S. every day. That traffic includes some 40,000 vehicles, 34,000 pedestrians and 150 to 200 buses.
President Donald Trump tweeted a photo Monday of the border fence at Border Field State Park covered in concertina wire with the message, "No climbers anymore under our Administration!"
The Fake News is showing old footage of people climbing over our Ocean Area Fence. This is what it really looks like - no climbers anymore under our Administration! pic.twitter.com/CD4ltRePML

— Donald J. Trump (@realDonaldTrump) November 19, 2018
Images captured last week showed migrants, in celebration that they reached the U.S. border, scale that same fence and walk or sit atop it.
About a dozen migrants stood on the sand on the U.S. side of the fence before eventually returning to the Mexico side. No arrests were made.
Behind the Scenes Look at Marines' Border Hardening Mission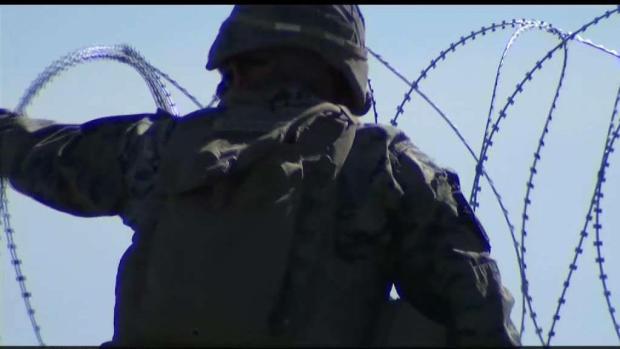 Border Field State Park has a long history and involves government entities on both sides of the U.S.-Mexico Border.
The Border Infrastructure Project is a fenced corridor between an older fence once constructed along the border and a new fence built in 2008 – 2009. It is owned by the federal Department of Homeland Security.
The DoD said the troops would not interact with migrants but would complete "border-hardening" tasks, like using pieces of barbed wire, concrete roadblocks and rebar to create movable barriers that can be used to block lanes at the San Ysidro and Otay Mesa ports of entry.
Army Military Police are there to protect the Marines who are not armed and are prohibited from enforcing the law.
POE Traffic Closure Impacting San Diego Businesses
Analysts and the Pentagon estimate that the entire deployment operation could cost $200 million.
Meanwhile, tensions on the Mexican side of the border have built as nearly 3,000 migrants from the caravan poured into Tijuana in recent days, The Associated Press reported. And with U.S. border inspectors processing only about 100 asylum claims a day at Tijuana's main crossing to San Diego, they will likely be there for months while they seek asylum in the U.S.
Tijuana Mayor Juan Manuel Gastelum has called the migrants' arrival an "avalanche" that the city is ill-prepared to handle, calculating that they will be in Tijuana for at least six months as they wait to file asylum claims. Gastelum has appealed to the federal government for more assistance to cope with the influx.
CBP Closes Some San Diego-area Port of Entry Lanes Ahead of Migrant Caravan's Arrival
Some Tijuana residents supported the migrants, but others accused the migrants of being messy, ungrateful and a danger to Tijuana. On Sunday, about 400 Tijuana residents took to the streets in protest, waving Mexican flags and chanting "Out! Out!"
They also complained about how the caravan forced its way into Mexico, calling it an "invasion." And they voiced worries that their taxes might be spent to care for the group.
"We don't want them in Tijuana," protesters shouted.
The Associated Press contributed to this story.
Video Shows Migrant Caravan Members Atop Border Fence