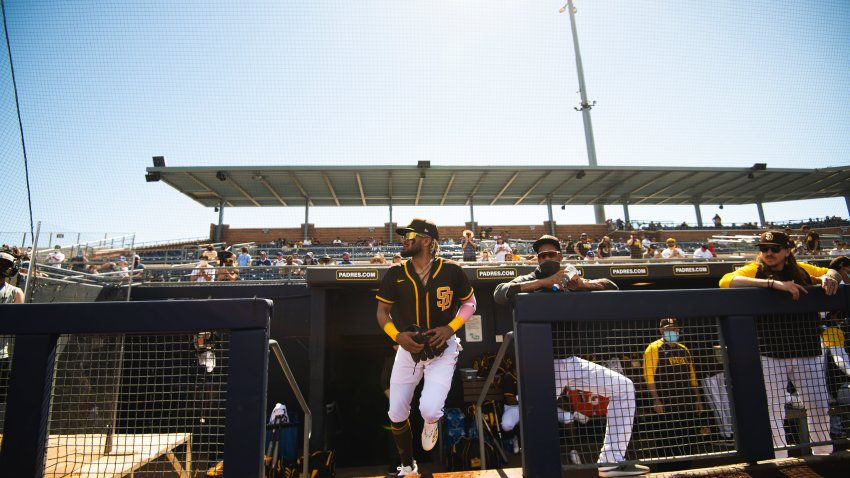 Padres fans let out a collective groan Tuesday afternoon, which was followed by a sigh of relief Wednesday.
After fielding a ground ball and making a throw to first base during the Padres' Cactus League game against the Reds, Fernando Tatis Jr. immediately walked off the field.
A day later, manager Jayce Tingler said the superstar shortstop is feeling good. Tingler added that Tatis lobbied to get in the lineup for Wednesday night's game against the Giants, and that they expect him to return to action in the next day or two.
The injury occurred when Tatis backhanded a ground ball against the Reds. He walked off the field alongside Tingler and a team trainer after the play. The team labeled the injury as shoulder discomfort.
Tingler used words like 'stinger' and 'pinch' to describe the ailment, but says he doesn't know the exact cause. Tatis has dealt with the injury to his non-throwing shoulder in the past, including throughout his minor league career. The manager also said Tatis could have ignored the pain and played through it, but is glad his young star did not do so at this stage in the year.
Injuries to star players are always a concern, especially following the 14-year $340 million investment the Padres made in Tatis this year. The 22-year-old played in all but one of his team's games in the 60-game 2020 season. Durability was a concern after a rookie campaign that was limited to 84 games due to hamstring and back injuries.
Tatis missed time this spring while battling the flu.
LISTEN: With NBC 7 San Diego's Darnay Tripp and Derek Togerson behind the mic, On Friar will cover all things San Diego Padres. Interviews, analysis, behind-the-scenes...the ups, downs, and everything in between. Tap here to find On Friar wherever you listen to podcasts.