Competition for the 2012 London Olympic Summer Games enters its fifth day Wednesday and with it comes several events involving athletes who are from San Diego or who trained here in their journey to London.
The U.S. women's water polo team takes to the water Wednesday against Spain at 10:30 a.m. PT with local athletes Kelly Rulon and Annika Dries.
California athlete Maggie Steffens made the most of her Olympic debut Monday as the 19-year-old scored seven goals in the team's 14-13 win over Hungary.
Despite the rookie's Olympic-record tying performance, the team needs to focus on its defense heading into its second match. For the Americans to win their first gold medal in the event, they'll have to firm up their usually solid defending.
WHEN TO WATCH: U.S. women's water polo vs. Spain 12:20 p.m. PT on NBC 7
A stunner in archery as local athlete Brady Ellison, ranked as the best in the world entering the London 2012 Olympic Games, was eliminated in preliminary round of 16.
Ellison, who earned a silver medal Saturday with teammates Jacob Wukie and Jake Kaminski, was a medal prospect after winning 35 of his last 37 head-to-head matches.
After beating out Mark Javier of the Philippines 7 to 1, Ellison saw that score reversed in his next match with Australia's Taylor Worth. Worth won 7 sets to Ellison's 1. See results here
Jake Kaminski was also eliminated in preliminary rounds, losing 6 to 5 to Dan Olaru from the Republic of Moldova.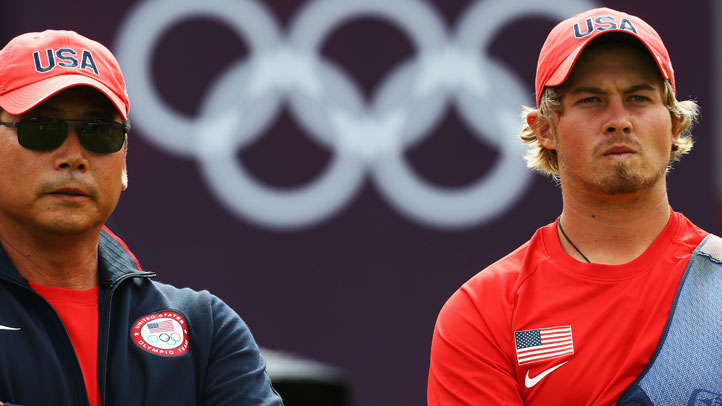 All but one member of the U.S. Archery Team lived and trained at the Chula Vista Olympic Training Center. Wukie was eliminated in the individual preliminaries on Tuesday. See highlights here
In sailing, Coronado's Molly O'Bryan Vandemoer and teammates Debi Capozzi, Anna Tunnicliffe were the favorites entering the women's match racing in London 2012. The women are now tied for third after three days of round-robin races.
On Wednesday, the team faced New Zealand in the morning and Russia in the afternoon. Tunnicliffe, Vandemoer and Capozzi stretched their round-robin record to 5 wins, 3 losses.
U.S. Rowing sent three boats to the line Wednesday with a chance to win a medal in the 2012 London Olympic Games.
In the men's eight, Germany secured the gold medal. However, the U.S. men's eight just missed the medal stand finishing with 5:51.48, just behind bronze medalists' Great Britain time of 5:51.18. See results here
The crew of coxswain Zach Vlahos, Brett Newlin, Jake Cornelius, Steve Kasprzyk, Giuseppe Lanzone, Will Miller, Grant James, Ross James and David Banks spent some time training at the Olympic Training Center in Chula Vista.
WHEN TO WATCH: U.S. men's rowing 3:45 p.m. on NBC 7
For Torrey Pines High School graduate Soren Thompson, his Olympic competition ended as quickly as it began Wednesday.
Considered one of the world's best in Epee, he lost in his first match to German's Joerg Fiedler.
Thompson started fencing at age 7 and competed at the 2004 Athens Olympic Summer games but missed out on 2008. Soon after, he decided to take a few years off from competition.
Watch replay of Thompson's match
"The reception I've always had in San Diego as a local athlete has been great," Thompson told NBC 7 before leaving for London. "There's a lot of pride being able to make the US team and then go over as part of that great team and represent the country over there."
Get Olympic updates:iPad App | iPhone App | Android App | Facebook| Twitter | Google+ | Instagram | RSS | Text Alerts | Email Alerts