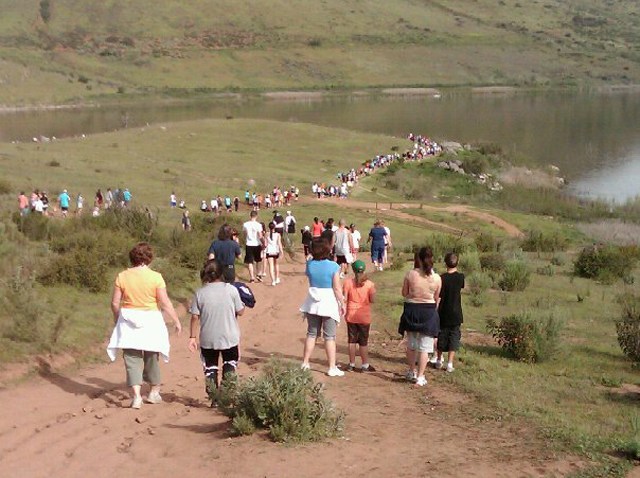 On a picture perfect day thousands took to the trails surrounding Rancho Bernardo Community Park honoring a teenager most had never met.
"I ran these trails when I was younger, so I grew up around here. So, just wanted to come today and support her family and kind of take back the park," Adrienne Chesful said.
They gathered to "Finish Chelsea's Run" at the park where 17-year-old murder victim Chelsea King was attacked. It was a day for families to come together and in their own way heal and push aside any fear.
"It was devastating to everyone. As a mother, it's devastating. You can't go to places you would normally go and relax and be with your family. You have this fear that someone's going to attack your children," Kathleen McCabe said.
Volunteers passed out seeds for native wildflowers. Walkers and runners trekked through 3 miles of winding trails, at one point passing a photo of Chelsea.
"We don't want our youngster thinking that just because something happened in the park that they can't enjoy it for the rest of their lives. And we need, as a community, to come back and take it back. That's why we want to finish Chelsea's run," Michelle Blasko said.
They symbolically completed the run Chelsea never got to finish with a renewed sense of community and awareness.
"I think it brings a lot of awareness, especially females, that I think before this happened, kind of felt invincible and safe out here because it's such a great area to live and you feel very safe that nothing could ever happen to you," Nicole Hill said.
The event raised more than $5,000 in donations for the Chelsea's Light Foundation.
The King family released this statement:
"We are so appreciative of these efforts to honor Chelsea's love of running. She would have admired your determined spirit and the community's collaboration to make statement for change."
Chelsea, a 17-year-old Poway resident, never returned from a run at the park on Feb. 25. Her body was later found buried near the lake.
John Albert Gardner III has pleaded not guilty to her assault and to the attempted rape of another woman. Gardner, a registered sex offender, was charged with raping and murdering King and could face the death penalty if convicted.
He also is under investigation in the death of 14-year-old Amber Dubois of Escondido, who disappeared in February 2009.
Copyright AP - Associated Press