Two San Diego County sheriff's deputies were honored for their actions that saved the life of a cross-country skier who fell into an icy lake in Pine Valley earlier this year.
Deputy Pilot Bill Liniewicz and Tactical Flight Officer Michael Davis received the Captain 'Gus' Crawford Memorial Aircrew of the Year Award at the Airborne Public Safety Association Conference in Omaha, Nebraska, on Friday.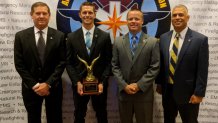 When the deputies spoke with NBC 7 after the February rescue, they described a very tense situation in which they had only a few minutes to strategize.
"We knew there was no time to spare," Deputy Pilot Bill Liniewicz Jr. said.
The skier was struggling to keep his head above water in the middle of Big Laguna Lake.
Deputy Michael Davis, a Tactical Flight Officer, was manning the controls of the sheriff's department helicopter and giving direction to his partner.
"He was solely relying on the information and communication that I was giving him," Davis said.
The helicopter landed to rig a flotation rescue device and then flew over to the skier and lowered it to him.
The man was able to grab the device, and the hovering helicopter was able to drag him about 75 yards to shore.
"He knew he didn't have much more in him. He knew he had to get out of that water because he didn't have much time," Liniewicz said.
Hikers stripped wet clothing off the man and put dry clothes on him before he was flown to a hospital. He was treated for severe hypothermia but made a full recovery, SDSO officials said.
Liniewicz and Davis credited teamwork for the success of the mission, and described that Sunday as the best day of their careers.
The award was given to Liniewicz and Davis by the Airborne Public Safety Association. The duo was selected out of submissions from air support units all across the country.
Copyright AP - Associated Press