Residents across San Diego County were awakened Friday by a strong earthquake centered just outside Borrego Springs.
The 5.2-magnitude earthquake struck at 1:05 a.m. and caused shaking across Southern California. Dozens of earthquakes have occurred in the hours since. Eight are considered to be significant aftershocks.
The epicenter was 13.7 miles northwest of Borrego Springs, according to the U.S. Geological Survey (USGS).
"This one woke me up so it was pretty intense," Borrego Springs resident Vicente Rodriguez said.
Rodriguez said he checked around his home and didn't see any damage.
"It could've been worse," he said.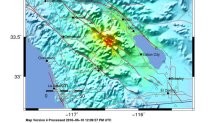 Marcus Phares has lived in Borrego Springs for years. He described Friday's quake as a "shake, rattle and roll."
"I was out here in '68 and that was a big one. We had some roads split wide open and knocked a few wells," Phares said. "People that aren't used to it. It scares them a little bit but I've lived here in Southern California my whole life it was just, it felt like a little one to me."
A few items fell from store shelves along the main route in the desert community east of San Diego but there have been no immediate reports of injuries or damage in Los Angeles, Orange, and San Diego counties, fire officials said.
Even so, many San Diego County residents contacted NBC 7 to describe the jolt they felt in the middle of the night.
For some, including Escondido resident Eric Frankovsky, the quake was a first-time experience.
"I was gonna storm out of the door naked," he said on NBC 7's Facebook page. "It was my first experience, I'm still bracing myself tho (sic), even put the clothes next to me in case I gotta run again."
"Visiting here from north Texas," Shelli Kropp said on NBC 7's Facebook page. "Felt it here in north San Diego. Shook me from a dead sleep. What a welcome!"
San Diego resident Kaitlin Harden also said she and her family felt the unpleasant rattling in their home.
"We Felt it for sure!!!" she wrote on NBC 7's Facebook page. "Freaked me out when my entire bed started shaking!! Thankfully it wasn't bad enough to do damage!! I know it was quick but it felt like things were shaking forever...definitely did not like that!"
Patti Ryan was in Borrego Springs at the time of the quake – very close to the epicenter.
"It not only was very, very loud but my house shook so bad....as soon as I stop shaking I have to pick up the stuff that came of my shelves," she wrote on NBC 7's Facebook page.
The quake was near the San Jacinto Fault, which is historically Southern California's most active fault. Friday's quake was near the locations of a magnitude-6 quake in 1937 and a magnitude-5.3 quake in 1980.
"We look at earthquakes as a series of events," Professor Emeritus of Geology, San Diego State University Pat Abbott said in a local television interview early Friday. "We are in an event now."
Abbott estimated a larger movement may be in Southern California's future but said that he would put the likelihood at 2 to 4 percent.
An earthquake of this magnitude "puts a lot of pressure on the adjoining areas," he told KGTV. "That pressure we're seeing right now are the aftershocks."
People from as far south as Chula Vista and as far north as Long Beach reported feeling the earthquake.
Get in to the conversation on NBC 7's Facebook page here.