Water, hops, grain and yeast.
Pulkit Agrawal became familiar with beer's four main components while working for San Diego's largest brewery, Ballast Point. Serving as a process engineer for just over two years, he helped Ballast point manage its packaging and canning systems.
Agrawal took his experience with Ballast Point in October of 2017 to create a new company, the 5th Ingredient. He contends data is a key part of the equation for a good brew.
"We're helping breweries track data from grain to glass," he said. "If all of a sudden between two batches another flavor comes out, something more buttery or apple-y, you can now start pinpointing it because you're looking at the entire story with the push of a button."
Paper Logs
Right now, many microbreweries use an old-fashioned system of paper logs attached to tanks and excel sheets to track the process. A few software competitors exist, including OrchestratedBeer and Ekos Brewmaster, but Agrawal said their systems were more accounting-based, where the 5th Ingredient is more focused on the brewing process.
"It's very much chemistry- and physics-based. You can input the recipe into the system," Agrawal said. "That's what appealed to our clientele."
Agrawal's system tracks more than 100 data points across the brewing, packaging, warehousing and inventory processes. For example, a brewer could track the amount of grain that went into a particular beer, or detect if it is taking longer than usual to brew.
Efficiencies Count
In a city with more than 150 breweries, those efficiencies count.
"If you don't make good beer, it's really easy to go next door and get somebody else's beer," Agrawal said. "If you are not maintaining costs and increasing efficiency, you're going to go out of business."
The 5th Ingredient's software is sold as a service, with the price scaled depending on the size of the brewer. So far, all of its customers are craft breweries in Southern California, producing between 200 and 7,000 barrels per year. They include San Diego-based Protector Brewery and Latchkey Brewing Co., and Smog City Brewing Co. in Los Angeles.
Protector, an organic microbrewery, was one of the 5th Ingredient's first customers. Co-founder Sean Haggerty said the software allows him to track information about each batch of beer on his phone, including how many batches of beer they can brew in one day, how much grain is in inventory after a shipment, and IBU levels (International Bitterness Units).
"Last year they were starting up this idea. There are a lot of competitors out there like Ekos, but I believe in Pulkit," Haggerty said. "When you brew a beer, consistency is the number one priority. We get to see the batch history and make sure we're brewing the best beer possible."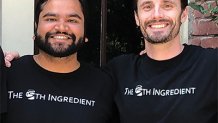 First Hire
Agrawal's work with Protector Brewing led to his first hire. Protector co-founder Ryan Allis joined the software company as its chief operating officer in June.
With his background in sales, distribution and engineering, Allis helped redesign the front end of Agrawal's application to make it more user-friendly.
Next, the 5th Ingredient hopes to scale to breweries between 40,000 and 100,000 barrels per year. For context, Ballast Point brews about 375,000 barrels per year, while Green Flash brews about 91,000. The 5th Ingredient is considering raising funds in early 2019, likely a friends and family round, to hire another software developer. But Agrawal said the goal has always been to grow the company organically.
"I'm excited to see where they go," Haggerty said. "As an entrepreneur, when someone has a spark in their eye and want to do something big, those guys at the 5th Ingredient are hungry for success."
Additional stories from the San Diego Business Journal are available here. Sign up for their free daily email newsletter.