The City of San Diego has begun sanitizing streets with bleach in different neighborhoods as the county fights one of the worst Hepatitis A outbreaks in its history.
City crews were out cleaning up the San Diego Riverbed on Friday, while offering shelter opportunities to the homeless people who live there.
Meanwhile, cleaning crews power washed sidewalks with a bleach treatment in Hillcrest and North Park.
Across San Diego County, 17 people have died and 461 cases have been confirmed, according to county officials. Of those cases, there have been 315 hospitalizations.

On Wednesday, crews began cleaning parts of San Diego's Midway, Ocean Beach and Pacific Beach neighborhoods. Crews will tackle Uptown and Mid-City on Friday.
"We know downtown is not the only area that is impacted by individuals at risk and where there is a concern. So we want to address that in all other areas, so we're starting in beach communities and Midway areas where reports have come in a very strong way," said Katie Keach, Director of Communications for City of San Diego.
The city is using an outside contractor to clean at-risk sidewalks with a bleach and water solution in order to kill the virus.
It's a two-step spraying process. The solution is sucked up right away after it is sprayed so the solution does not get stuck in storm drains.
The new streets targeted Wednesday include the popular Garnett Avenue in Pacific Beach, Rosecrans in the Midway District, and Newport in Ocean Beach.
The neighborhoods will be sprayed Monday, Wednesday and Friday every other week.
Business owners in the area expressed approval.
"I really like that idea and I think it's going to help with the spread of diseases. I think it's a good start," Tina Sabouri, general manager at The Joint, said.

As of September 23, more than 42,000 Hep A vaccines have been administered in San Diego County. Close to 700 people were given the vaccine as a precaution after exposure to the virus.
Officials said 22,406 were given by health care systems or pharmacists, but 15,662 vaccines were given by county staff in the field, in jails or detention centers or the county psychiatric hospital.
The city continues to install more public bathrooms. There are now 22 public restroom facilities in downtown San Diego, as listed here.
City crews have also sanitized sidewalks in the downtown area and installed hand-washing stations.
County health officials have also notified 14,000 food facilities in the area as well as agricultural growers and public pools.
Hepatitis A is a liver infection caused by a virus that is highly contagious. The Hepatitis A virus can be contracted by touching objects or eating food that someone with the Hepatitis A infection has handled or by having sex with someone who has an HAV infection.
Some people get the virus but have no symptoms. Signs of infection include fever, fatigue, nausea, loss of appetite, yellowing of the eyes (jaundice), stomach pain, vomiting, dark urine, pale stools, and diarrhea. Adults are more likely to have symptoms than children.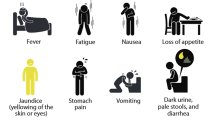 The California Department of Public Health suggests anyone who has been exposed to the virus, and who has not been previously immunized for Hepatitis A, should consider getting vaccinated no later than two weeks after exposure.
For more information, go to the San Diego County Hepatitis A Outbreak website.