A wildfire that sparked amid extreme fire weather conditions near a highway interchange in San Diego's North County continued to burn Friday, still threatening homes and leaving residents to wonder if they'd have a place to return to.
Cal Fire officials said the so-called Lilac Fire – which first sparked Thursday at around 11:20 a.m. near State Route 76 and Interstate 15 in Bonsall – had burned 4,100 acres.
The fire was 15 percent contained Friday evening and had destroyed 105 structures, while threatening approximately 1,500 more, Cal Fire officials said.
Some residents in Bonsall, Oceanside and Vista were allowed to return home Friday evening as evacuation orders were lowered to evacuation warnings.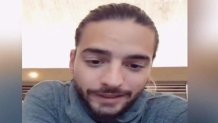 Earlier in the day, Oceanside officials said the Lilac Fire had entered their city at Via Puerto del Sol near Lago Grande Drive, an area located at Oceanside's eastern border. The fire was held at Precious Hills Road.
Evacuation orders were still in effect for a section of Oceanside and Bonsall.
In the two-day firefight, dozens of homes have burned to the ground in the communities known for their farms and ranches. Animals have been killed.
Cal Fire Capt. Kendal Bortisser said in a news briefing that San Diego Fire-Rescue Department (SDFD) and Kern County helicopters had helped overnight by performing water drops.
"We have neighbors from all over California assisting us with this fire," he said, adding that additional resources from out of state were still on the way to San Diego to help.
Bortisser said that, as of 10 a.m. Friday, more than 1,000 personnel were committed to fighting the Lilac Fire. This included over 100 engines, seven air tankers, and 15 helicopters. In addition, two U.S. Marines helicopters and two U.S. Navy choppers were also helping.
The U.S. Navy said those helicopters -- Helicopter Sea Combat squadrons THREE (HSC-3) and TWO-ONE (HSC-21), providing aircrews flying specially-equipped MH-60S helicopters -- are equipped with buckets for aerial water drops. The Navy said those squadrons regularly train for these types of missions.

So far, three civilians have suffered burn injuries, while another was hospitalized due to smoke inhalation. Two firefighters have suffered minor injuries in the ongoing battle to knock out the Lilac Fire. A Cal Fire public information officer said one of those firefighters had dislocated his shoulder but popped it back in and went back to work for a while.
The retirement community of Rancho Monserate Mobile Home Park at the center of where the fire first began was hard hit, with dozens of units destroyed. NBC 7's news chopper captured haunting images Thursday afternoon of those mobile homes being scorched beyond recognition.
As the sun came up Friday, NBC 7 returned to the mobile home park, much of which had been reduced to ashes. Charred homes filled street after street; some of the frames still stood, but not much else. NBC 7 counted at least 40 homes destroyed in that area.
Many of the residents who lived in the mobile home park had pulled out their garden hoses to fight the flames but had to leave in such a hurry, they left their water running. Firefighters were scouring the smoldering rubble Friday, turning off the water to those abandoned hoses.
Victims of the fire have described the scene in their community as hellish and the process of evacuating their homes as nothing short of painful. Watching their neighbors' properties burn has been devastating.
Bonsall resident Terry Johnson stayed behind, grabbing hoses in an effort to protect her home. A fire engine was stationed in her driveway as she worked side by side with firefighters to keep the flames from destroying her property.
She described the hours spent battling the fire as unbelievable.
"It's just awful, it's awful. You have no idea," Johnson told NBC 7, holding back tears. "My worst nightmare."
Some of her neighbors lost their homes. Others lost outbuildings.
On Friday, Johnson's main mission was to locate her horses, which were evacuated in the thick of the blaze. She said her animals were all haltered and tagged, and someone evacuated them, but she needed to track them down.
Road closures remained in place Friday due to the fire. Multiple evacuation centers across the county were up and running, taking in evacuees and providing meals and a place to rest.
San Diego County Sheriff Bill Gore estimated at least 10,000 people had evacuated their homes due to the Lilac Fire.
"If there's a dramatic turn of the winds, we'll issue more evacuation orders," Gore said in a news conference.
The sheriff said his crews were focusing on road closures and providing security in neighborhoods that had already been evacuated to prevent looting or other crimes in those areas. SDSO Undersheriff Mike Barnett later added that 150 law enforcement officers, including at least 90 deputies, were working int he fire zone.
"If you have evacuated your house, please rest assured that there's law enforcement personnel taking care of your possessions while you're out of harm's way," Gore added.
As of Friday morning, evacuation shelters included:
Bostonia Park & Recreation Center in El Cajon (1049 Bostonia St.)
East Valley Community Center in Escondido (2245 E. Valley Parkway)
New Venture Christian Fellowship in Oceanside (4000 Mystra Dr.)
Oceanside High School in Oceanside (reached capacity Thursday night) (1 Pirates Cove Way)
Palomar College in San Marcos (1140 West Mission Rd.)
The Forum at Carlsbad in Carlsbad (established as a temporary evacuation resource) (1923 Calle Barcelona)
Stagecoach Community Park in Carlsbad (reached capacity Thursday night) (3420 Camino De Los Coches)
Oceanside resident Mark McClanahan evacuated his home and sought safety at the Palomar College shelter. He told NBC 7 that when he left his house with his wife and dogs, they could see flames shooting from the top of a nearby hill.
"It was very close, very smoky there," he said.
Having experienced other serious wildfires in San Diego County over the years, McClanahan knew they had to evacuate quickly
"It's better to be safe than sorry," he said. "You just don't want to be one of those people that they say stay behind and perished."
Chris Moore, Chief of Police at the Palomar College Police Department, urged residents in the fire zone to do the same and evacuate as early as possible.
"Be proactive. Come to our shelter now," Moore said.
Fallbrook resident Charles Vega evacuated his home along with his wife and dog, Bella, Thursday afternoon. They, too, felt it was the right choice for their family.
"We could see that they weren't gaining on the fire. The smoke was getting darker and spreading everywhere," Vega told NBC 7.
The couple was hoping to return home Friday, but, in the meantime, were grateful for a safe shelter and the volunteers trying to make their stay comfortable.
"Everybody here wants to go home," Vega's wife said. "We're all kind of lost souls."
The Vegas had to evacuate their home during the 2007 wildfire. Although the process is unsettling, Vega said everything that truly matters is already with him.
"I think, the reality is, this is what counts – the people and our pet – that's what counts. We hope our house is fine; we'll find out when we go back – whenever that is," he said. "This is what counts, not the piece of property."
Bonsall resident Lee Miller evacuated with his four kids, four dogs, a pet ferret and a cat after 9 p.m. Thursday.
"It was dark. The power had gone out so we're running around with flashlights with smoke and ash in the air. It was quite an experience," Miller told NBC 7.
At a Friday afternoon news briefing, Steve Abbott, Fire Chief of the North County Fire Protection District, said officials know that evacuees want to return to their homes as quickly as possible but he asked for patience through that process.
"Given the predicted weather conditions, however, and the amount of open fire land that remains, that is going to take some time," said Abbott.
California Gov. Jerry Brown has declared a state of emergency for San Diego County, freeing up federal resources as crews battle the blaze. The county has also declared a state of emergency.
Many schools in impacted areas were closed. San Diego Gas & Electric was monitoring power outages, posting updates on that here. County officials said approximately 20,000 people across the county were without power Friday morning.
[NATL-SD] Lilac Fire Burns Near SR-76 and I-15 in North San Diego County
In a Friday morning news briefing, Dianne Jacob, chairwoman of the San Diego County Board of Supervisors, assured fire victims that the county was ready to help them recover from the devastation.
"We've been through this before; all county resources will be available for you in recovery efforts. We're with you all the way," Jacob said. "It's a long process to recovery; it's very painful to be losing your home. Our prayers are with you during this time."
She urged all San Diego County residents to remain vigilant and be prepared.
"A fire can go anywhere at any time. We're not out of the woods yet," Jacob added.
As of 5 p.m. Friday, Cal Fire San Diego announced it was allowing some evacuees to return to their homes. You can find a full list of the locations here.
Weather Conditions
San Diego County is under a red flag warning issued by the National Weather Service (NWS), in effect through 8 p.m. Sunday. This warning means any fires that may develop will spread quickly under fire-prone conditions that include ongoing strong, gusty winds and low humidity. A high wind warning is in effect until at least 4 p.m. Friday.
The wind is what led the Lilac Fire to grow by 500 acres in just 20 minutes Thursday, Cal Fire Battalion Chief Mike Mohler said.
Just before 7 a.m. Friday, NBC 7 meteorologist Jodi Kodesh said the winds in the area of the Lilac Fire were much calmer, barely reaching 5 mph. She said those wind speeds could perhaps reach the teens around noon but it wouldn't be "anything like what we saw yesterday."
After 4 p.m., Kodesh said those winds will really drop down as the high wind warning expires.
Concurrently, she said humidity levels had risen a bit because, with the winds not as strong, the humidity was being given a chance to rebound.
"Yes, we're still dry and yes, why we're under the red flag warning through the weekend, but better conditions that I think we are all so thankful for right now," Kodesh explained.
Temperatures in the Lilac Fire zone were expected to be sunny – albeit smoky – and between 77 and 81 degrees.
At 11 a.m., Kodesh said the wind conditions had changed a bit.
"We're seeing a wind shift," she explained. "The winds are turning."
Kodesh said a small onshore push expected to reach the inland valleys this afternoon would cause the fire to burn back on itself.
Kodesh said San Diego's mountains remained gusty and would likely not see relief from the wind until Sunday. The dryness will continue into next week and those dry conditions, even without wind, would keep San Diego County's fire conditions elevated into the weekend.
Kodesh noted there is no rain in sight in the coming days.
Steven Harris, a forecaster with NWS San Diego, posted a video on Twitter looking at the conditions San Diego could expect going into the weekend.
He said the region could see another "burst of Santa Ana winds Saturday night and Sunday when we could have another pretty bad day in terms of fire weather threat."
Harris said Sunday's forecast includes 25 to 40 mph gusts in the Lilac Fire zone, as well as northeast winds of 20 to 35 mph in San Diego's passes and foothills and northeast winds of 15 to 25 mpg with up to 40 mph for the inland valleys and some coastal areas. The winds won't be as strong as they were on Thursday, but Harris said the threat is there.
"We'll still have very low relative humidity Sunday, so any fires that are active or start will be susceptible to growing extremely rapidly – especially Sunday," he explained.
By Monday, Harris said the winds will be much weaker and the fire weather threat will decrease to a "minor" level.
"Remember, this was a wind-driven fire," Bortisser said Friday of the Lilac Fire. "The crews were trying to stay out ahead of this as quickly as they could and, as we know, when a tornado hits the Midwest, there's no stopping it. When a hurricane hits the East Coast, there's no stopping it. When the Santa Ana winds come in, there's no stopping them."
Mohler said there are a lot of open fire lines that have not been tested by erratic Santa Ana winds.
"We're expecting those conditions to increase overnight into tomorrow," he added.
Even though there is no smoke, the threat is not gone.
"We have what we call sleepers – hidden embers that can be increased by just a slight wind," Mohler said.
As of 1:15 p.m. Friday, Cal Fire Chief Ken Pimlott said the six wildfires in this week's Southern California "siege" were actively burning, consuming a combined 141,000 acres. The fires had forced 212,000 residents to evacuate statewide and threatened more 25,000 homes. Pimlott said 8,700 firefighters were on the lines.
Pimlott was hopeful firefighters would make good progress on the Lilac Fire Friday.
Moving Forward
At a Friday afternoon news briefing, Mark Ghilarducci, director of the governor's office of emergency services, said FEMA was providing a federal fire management assistance grant to make sure resources are available for area in California impacted by the wildfires.
He said Gov. Brown had requested from President Donald Trump Friday morning and received a federal emergency declaration for direct federal assistance. This opens the door to use federal resources – such as helicopters – over a long period of time, without limitations, to be able to support local authorities battling the fires.
Ghilarducci said his team has coordinated over 500 mutual aid fire engines from jurisdictions all over California – all the way from the Oregon-California border down to San Diego.
"You may see strike teams from other parts of the state. That's neighbor helping neighbor – the one team, one fight effort – that we use in our mutual aid system," he explained.
Ghilarducci said agencies from out of state are also assisting, including 290 fire engines from Montana, Utah, New Mexico, Idaho, Arizona, Oregon and Nevada. Some of those resources have been helping in the Lilac Fire.
Supervisor Bill Horn, with the County of San Diego, said he toured the fire area Thursday night and Friday morning. Horn touted the coordination between agencies.
"I would just say, of the 27 fires I've seen over the last 23 years, the response to this fire was almost a miracle," he said.
Horn said the number of structures destroyed in the Lilac Fire is expected to increase. Crews are focused on putting out hot spots ahead of possible increased winds this weekend.
San Diego Fire-Rescue Department (SDFD) Chief Brian Fennessy said his agency is also ready to help as needed. He's been working as a firefighter for 40 years and called the response to the Lilac Fire "unprecedented."
"I have never seen or witnessed such a cooperative effort. We're talking federal, state, local – talking in advance, days in advance – prepared for what eventually was to come," Fennessy told reporters. "And we continue to be prepared. Nobody's going home; we're not out of this yet."