The skies around San Diego County will fill with fireworks Saturday night as Americans celebrate the 4th of July.
One of the largest celebrations will be the Port of San Diego's annual Big Bay Boom 4th of July Fireworks Show.
Hundreds of thousands of people will line San Diego Bay to see the show which kicks off at 9 p.m. For those who've never experienced the holiday here in San Diego, fireworks are launched simultaneously from barges around the bay.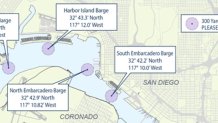 Crowds can tune in to choreographed music on MAX 105.7 FM and MIGHTY 1090 AM.
With so many people all heading to the same place on a weekend night, you may want to plan ahead. Free shuttle service will be offered to Harbor Island and Shelter Island. Get pickup and drop off locations here.
In addition, MTS will be offering expanded trolley and bus service. There should be free parking available at Qualcomm Stadium with an MTS Trolley Ticket.
There are a number of events and fireworks shows scheduled for the holiday. Here's our list:
Chula Vista
No fireworks are planned for Olympic Training Center
Coronado:
All-day event, plus 9 p.m. fireworks
Coronado will host an all-day 4th of July celebration that begins with a morning 5K run, followed by tons of activities. At 10 a.m., a parade will be held along Orange Ave from 1st Street to Churchill Place. At 9 p.m., enjoy fireworks over Glorietta Bay sychronized to music from KYXY on 96.5 radio. No SEAL demonstration is planned.
El Cajon
Saturday, 9 p.m.
Kennedy Park, located at 1675 East Madison Avenue
Free, family-friendly celebration 1 p.m. to 8 p.m.
Escondido
Saturday, 9. p.m.
Grape Day Park
Free entertainment begins at 4 p.m. with a fireworks display to begin at 9 p.m. From 4 to 7p.m. the Escondido History Center will be open with projects for children of all ages.
Imperial Beach Fireworks
Saturday, 9 p.m.
Best view: From Palm Avenue to Imperial Beach Boulevard.
Choreographed music on KYXY 96.5 FM.
Paid parking available in Mar Vista High School's parking lots at 505 Elm Ave.
MTS service available from Imperial Beach Boulevard
Julian
Saturday, Noon Parade
Main Street
After the parade, there will be a BBQ and music at the American Legion for a fee. No fireworks listed.
La Jolla
Saturday, 9 p.m., La Jolla Cove
The display starts at 9 p.m. at the Ellen Browning Scripps Park.
LEGOLAND California, Carlsbad
Red, White and BOOM!, Saturday, 8:30 p.m.
The park hosts its own fireworks show at 8:30 p.m. after a day with some all-American picnic games like burlap races and water-balloon tosses along with the park's usual attractions.
Mira Mesa:
All-day event, plus fireworks at 9 p.m.
Mira Mesa will host a 4th of July parade, plus a Family Fun Day in the Park, which begins at 11:00 a.m. At 9 p.m., the park party will culminate with a fireworks extravaganza.
The annual 4th of July Parade steps off at 11:30 am from the corner of Mira Mesa Blvd and Greenford Drive, traveling down Mira Mesa Blvd to Camino Ruiz.
Mission Hills
Mission Hills will host it 4th of July Extravaganza from 10:30 a.m. to 2 p.m. at Pioneer Park. No fireworks at this event, but plenty to see and do, including a parade, BBQ competition, games, prizes and a concert.
National City
Saturday, 9 p.m.
The 4th of July Carnival will be held July 1 - 5 from 5 to 11 p.m. at Kimball Park located at 12th St & 'D' Ave. Fireworks will be 9 p.m. Saturday only.
Oceanside
Friday, July 3
The City of Oceanside will have its fireworks show a day early, on July 3, at the El Corazon Site at Rancho Del Oro Road. Bring a lawn chair and enjoy the display from 6 p.m. to 10 p.m.
Ocean Beach
Saturday, 9 p.m.
Watch the sunset and then enjoy the fireworks set off from the OB Pier. Free parking at Main Beach Parking Lot as well as Pier Parking Lot.
Poway
Saturday, All-day event, plus 9 p.m. fireworks
Old Poway Park will host a family-friendly event from 10 a.m. to 4 p.m. with gun fighting re-enactments, free crafts, and old-fashioned games.
Then, at 9 p.m. Poway High School will put on a fireworks show. Admission $5 per person at the gate. Children 11 and under are free. Gates open at 6 p.m.
Rancho Bernardo
Saturday, 9 p.m.
Celebration opens at 6:30 p.m.. at the Athletic Field of Bernardo Heights Middle School at 12990 Paseo Lucido.
Rancho Santa Fe:
1 p.m. Parade and Picnic
Rancho Santa Fe will host an Independence Day parade beginning at 1 p.m at Rancho Santa Fe High School. A picnic will folo. No fireworks here.
San Diego County Fair:
All day event, Del Mar Fairgrounds
Opening ceremony kicks off the day at 9:30 a.m. at the O'Brien Gate. Noon pie eating contest. At 7 p.m., see a Hometown Heroes Parade from Family Funville to the Grandstand.
Fireworks begin at 9 p.m.
Best Viewing: Anywhere within fairgrounds
San Marcos
Saturday, July 4
Bradley Park
The city's 4th of July Fireworks Celebration called "This Is My Country" includes musical entertainment beginning at 6 p.m. Fireworks at 9 p.m. Bring chairs or blankets for lawn seating. Carnival games, jumpers and food sales available on-site.
Santee
Saturday, 3:30 to 10 p.m. with fireworks at 9 p.m.
Town Center Community Park
Paid parking available (cash only) at locations near the park. Free shuttle service from the Costco parking lot
Scripps Ranch:
10 a.m. parade, 11 a.m. event
Scripps Ranch will host a parade and community event with the theme "Anchors Aweigh." No fireworks are planned.
SeaWorld San Diego
Friday, 9:50 p.m., Saturday, 10:30 p.m.
Show lasts 17 minutes. Best viewing: Shamu Stadium, along the bay near Mission Bay Theater, and at the park entrance.
Vista:
All-day event, with fireworks at 9 p.m.
Vista's Moonlight Amphitheatre and Brengle Terrace Park will host an all-day 4th of July event. Admission to the Amphitheatre is $5 per person. Children 5 and under and active and retired military and their immediate family get in free. Park opens at 7 p.m., fireworks start at 9 p.m. Parking in the park is $15 per car and $30 per recreational vehicle.