It's official: California will begin making license plates depicting a smiling Snoopy, of Peanuts fame, as part of a program that raises money for museums across the state, including institutions in San Diego.
On Wednesday, it was announced that more than 7,500 Californians have submitted pre-paid applications for the Snoopy license plate. This milestone clears the way for the California Department of Motor Vehicles (DMV) to begin production on the plates, available to motorists for $50. Personalized Snoopy plates run for $98, while annual renewal costs $78.
Through the Snoopy Plate program, a portion of the cost of the initial plate and all proceeds of the Snoopy plate renewal will help fund grants for California's 1,400 museums and other educational attractions such as science centers, zoos aquariums and children's museums, to be administered by the California Cultural and Historical Endowment (CCHE).
Additionally, Californians who have pre-ordered their Snoopy plates will receive discounted or free admission to more than 85 participating museums in the program for one year – perks known as "Beagle Backer" benefits. Drivers have until Friday to pre-order their Snoopy plates and still qualify for those benefits, worth nearly $1,200.
The Snoopy Plate program and design was first introduced in February 2014 by Democratic Assemblywoman Toni Atkins of San Diego, who authored the bill that created the grant program to be funded by the Snoopy license plates.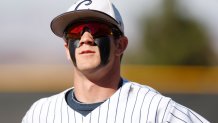 As the state rolled out the program, Jean Schulz, the widow of "Peanuts" comic strip creator Charles Schulz, allowed California to use Snoopy's image without paying royalties.
Now, nearly two years later, Snoopy's image will soon hit California roadways.
Atkins, along with other San Diego city and museum leaders, held a media briefing Wednesday to discuss the program's progress, gathering, fittingly, at the San Diego Natural History Museum in Balboa Park.
"It is this treasure that we want to protect, and Snoopy is helping us do that," Atkins said, speaking of TheNAT and other museums. "This park [Balboa Park] is a treasure to us and there are treasures throughout the state of California that host wonderful museums and important cultural institutions."
Atkins – accompanied by San Diego City Councilman Todd Gloria, "Luann" cartoonist Greg Evans, California Association of Museums Executive Director Celeste DeWald and CCHE Chair Bryan Cash – announced a 48-hour extension on plate pre-orders, good through Friday, with the Beagle Backer benefits.
Atkins expects that orders on Snoopy plates will "increase exponentially" once motorists begin seeing them on the roadways, meaning more funding for museums statewide.
"I do think when you see cars on the road doing 'the happy dance,' people are going to be very interested in doing this," she added, saying the license plate and museum benefits would make a great Christmas gift for loved ones.
"Revenues from the plates will help museums fulfill their educational mission and serve Californians," Atkins continued. "Our museums are an important part of our history and culture – that's why we have to keep them strong and in place for future generations."
The Snoopy Plate program is also a way to honor Peanuts creator and renowned California artist Charles M. Schulz. His wife has said that Schulz often visited museums and got ideas and inspiration for his work through the cultural institutions.
It comes amid the recent release of "The Peanuts Movie," and the 65th anniversary of Schulz's Peanuts comic strip and 50th anniversary of classic television holiday special, "A Charlie Brown Christmas."
To learn more about the Snoopy Plate program or order your Snoopy license plate, visit this website.