A man accused in a series of attacks on homeless men while they slept could face the death penalty, according to San Diego County Deputy District Attorney Makenzie Harvey.
Jon David Guerrero, 39, of San Diego is charged with three counts of first degree murder, two counts of attempted murder and two counts of arson.
The allegations include a weapon was used in all crimes. There is also a special circumstance in that more than one murder occurred in a series, so he could face the death penalty.
He was scheduled to appear in court on Tuesday for his arraignment, but Guerrero's public defender asked for a two week continuance because he was not prepared to proceed to trial. The judge granted the request.
Guerrero is represented by public defender Danesh Tandon, who said after court that San Diego deserves to know the whole story.
"This story started well before July 3 when the first lost of life happened," he said.
A friend of the accused serial killer said Guerrero had a "short fuse" and that he was becoming increasingly concerned about the number of homeless coming to San Diego from out-of-state because of the nice summer weather.
"He was kind of laid back, but it seemed like he had a little bit of a short fuse," said Dameon Ditto. "Not to say that I would think he would ever do anything like what he's been accused (of)."
Guerrero is accused in five attacks that began July 3, San Diego Police said, and authorities believe he acted alone. Guerrero was taken into custody near the most recent attack at 18th and C Street just after 4:30 a.m. Friday. He was booked into the San Diego Central Jail in downtown on Friday.
Police say physical evidence found at the scenes and in Guerrero's apartment links all attacks.
Three of the men attacked died from their injuries.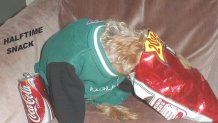 Two victims initially who were initially taken to the hospital in critical condition are expected to survive, Harvey revealed Tuesday. San Diego Police had initially said one of the victims would survive and is expected to testify.
At the hearing, the Judge ordered news outlets to blur the defendant's face. NBC7 and another news organization requested to be heard by the court to oppose that decision, but were not granted the request to argue against the order.
Harvey said if convicted, Guerrero faces life in prison without the possibility of parole. He also faces maximum exposure. He could face the death penalty.