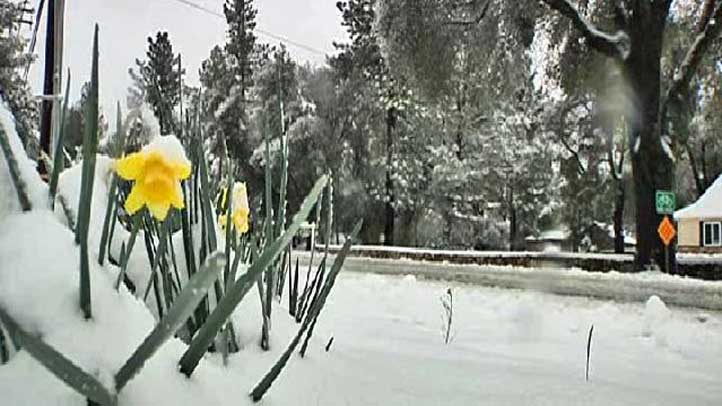 A winter storm continued to dump rain and hail on most of San Diego County Sunday while at the same time bringing several inches of snow to our mountains.
Because of the cold temperatures associated with this weekend storm, San Diegans can expect the high temperatures to only reach the low to mid 50's for most the county Sunday.
That also increased the chance of snow for residents living in the 2000 to 2500-foot level.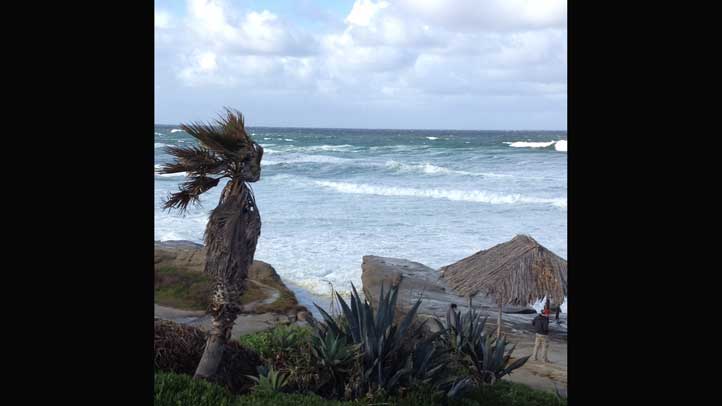 In Alpine and Pine Valley, snow and slush covered the roads by mid-morning Sunday, pea-sized hail fell in parts of Mission Hills, North Park and Santee, while the winds picked up in La Jolla through Ranch Penasquitos.
The winds will be felt all along the local coastline with strong, gusty winds reaching over 40 mph forecasted.
Firefighters and utility crews were alerted to a downed power line on Cottonwood Avenue around 10:45 a.m.
More than 2,000 SDG&E customers were affected by an outage reported in the same area according to the utility's website. The estimated time of repair is listed as 1:30 p.m.
"When all is said and done, we may get more than an inch of rain at the coast this weekend, and the numbers increase the farther east you go," said meteorologist Greg Bledsoe.
Don't expect to be back to sunshine Monday morning. Showers should continue Monday morning and the mountains and deserts will see wind gusts through the day Monday according to the National Weather Service.
As happens in most winter storms, there's an advisory for the coastal waters from the Department of Environmental Health.
Swimmers, surfers, and other ocean users are warned that levels of bacteria can rise significantly and so activities such as swimming, surfing and diving should be avoided for 72 hours following rain.
Want to share your storm pics? Take an Instagram photo and include the hashtag #SanDiegoGram. Or upload your image here. You can also email it to isee@nbcsandiego.com.