A confrontation involving three San Diego County Sheriff's deputies and a man who was reportedly seeking to harm himself ended with gunfire in Lemon Grove Monday night, the SDSO said.
Three SDSO deputies opened fire on a man, identified Tuesday as 34-year-old Shane Felix, after responding to a 911 call at a home in the 2100 block of Camino de Las Palmas at about 6:20 p.m.
The shooting left Felix with multiple gunshot wounds, which he is expected to survive, SDSO said. He was treated at the scene before being transported to a local hospital for surgery.
The deputies involved have not yet been identified but have been placed on paid administrative leave during the investigation, according to the agency.
SDSO was originally called because Felix was armed with a gun and threatening to harm himself. When the deputies attempted to talk to Felix, he pulled out a revolver from his jacket, SDSO said.
The agency released a photo of the revolver reportedly found at the scene. It was not clear if Felix ever pointed it at deputies.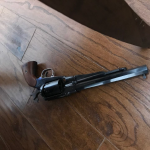 Details of the confrontation that ensued were not released but SDSO said it ended with shots fired.
The deputies involved were not injured.
Felix faces charges of assault with a deadly weapon and felon in possession of a weapon. He was convicted for arson in 2018.
SDSO shut down traffic in both directions of the street between Ildica Street and Calle Sur for an investigation into the shooting. The scene was cleared by 5 a.m. Tuesday.
This is a developing story. Please check back for updates.
If you or someone you know is in crisis, please call the National Suicide Prevention Lifeline at 1-800-273-TALK (8255) or contact the Crisis Text Line by texting TALK to 741741.