Joining forces with hundreds of law enforcement agencies across the state, the San Diego County Sheriff's Department took part in a Shoulder Tap Operation Saturday to keep kids from getting alcohol in stores.
After conducting the sweep between 11 a.m. and 3 p.m. in San Marcos, a decoy pretending to be a minor trying to get alcohol from someone going into a store made 37 contacts with people resulting in three citations. The decoy visited eight stores during the operation.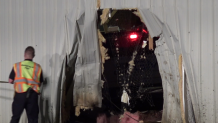 If convicted of selling or buying alcohol for a minor, a person can spend up to six months in jail and be fined a minimum of $1,000.
The Centers for Disease Control and Prevention reports that more than 4,300 people under 21 die in alcohol-related incidents each year, and in 2015, 31 teenage drivers were killed in DUI crashes, according to the latest Alcohol Beverage Control (ABC) statistics.
The program's goal is to reduce the availability of alcohol for minors. It was conducted with help from a $100,000 grant from ABC.
The grant money will also be used to fight alcohol-related crimes and to educate ABC-licensed businesses on how to make communities safer.
So far, 410 people have been arrested statewide.