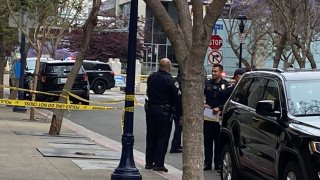 San Diego police have arrested a suspect in the deadly shooting Tuesday at the San Diego Central Library and released the name of the 20-year-old man killed in the attack.
The shooting was reported around 12:15 p.m. Officers responded and found two victims injured in the plaza in front of the library, according to SDPD. One was taken to a hospital with non-life-threatening injuries and the other died there at the scene.
On Thursday, SDPD identified the man who was killed as 20-year-old Trey Walker.
The shooting started in the foyer of the library and may have spilled out into the street near the entrance, SDPD Homicide Lt. Judd Campbell told NBC 7 during a news briefing Tuesday.
The department revealed on Thursday that Walker and the second victim, a 24-year-old man still in the hospital as of Thursday afternoon, confronted the suspect, identified as 21-year-old Kenneth Cheney, in the foyer of the library over an allegedly stolen backpack.
During the confrontation, Cheney pulled out a gun and shot at Walker and the other victim. The injured man is expected to survive, SDPD said.
Witnesses who lived nearby said they heard at least three gunshots in the area, then several more as a suspect fled the scene.
"I stood up and looked out my window and saw the shooter run out from the library and shot about 4-5 more rounds down 11th and that's when I called 911," Jordan Williams, who lives in apartments near the library, told NBC after the shooting. "He had a silver handgun in his hand and I saw the bullets fly out of the gun and just shoot the rounds down 11th."
SDPD has not confirmed how many shots were fired. Another witness told police and NBC 7 the suspect was wearing a neon pink ski mask.
Campbell confirmed a pink mask found near the scene was picked up as evidence.
Cheney was taken into custody Thursday at around 2:45 p.m. near Interstate 15 and University Avenue, according to SDPD. He faces multiple charges including murder.
Anyone with information regarding this incident is encouraged to call the Homicide Unit at (619) 531-2293 or Crime Stoppers at (888) 580-8477.