Read the most recent Border Fire story here.
In the second day of the Border Fire, authorities issued additional evacuations across Southern Californian communities between Campo and Potrero as triple-digit heat fueled the blaze, growing from 1,900 acres to 7,500 acres, nearly 12 square miles.
Crews worked throughout the day during record-breaking heat to battle the Border Fire, which ignited Sunday and quickly grew Monday from 1,900 acres to 7,500 acres in a matter of hours. Cal Fire officials said the wildland fire was 5 percent contained.
Mandatory evacuation orders are still in effect for the community of Potrero. Cal Fire officials have issued additional evacuations for Forest Gate, Star Ranch, Cowboy Ranch, Dog Patch and Canyon City, east of Potrero and west of Campo.
Evacuation advisories are in place for Lake Morena and for the area near Campo and Buckman Springs. Evacuations are voluntary. Residents who choose to evacuate can convene at Golden Acorn Casino at 1800 Golden Acorn Way, which has been set up as a temporary evacuation point. It is not a shelter.
Residents were encouraged to evacuate to Buckman Springs Rest Area at Buckman Springs Road and Interstate 8.
A mandatory evacuation order was issued for the city early Sunday afternoon. The community of Potrero has a total population of 693 people in 207 units, according to the U.S. Census Bureau's 2014 American Community Survey.
Homes along Highway 94 between Emory Road and Plaskon Road were also evacuated. Highway 94 is closed from Highway 188 to Potrero Valley Road. It is unclear when the road will be open again.
Mountain Health, the only community clinic in Campo and the Mountain Empire Region, has opened up their community center in Campo for displaced residents. The center is located at 31115 CA-94 in Campo.
Residents in need of emergency assistance evacuation should call 911.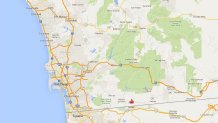 Evacuees are being directed to Los Coches Creek Middle School, where an overnight shelter was set up. The school is located on 9669 Dunbar Lane in El Cajon.
A previous emergency shelter at Campo Elementary School at 1654 Buckman Springs Road has closed.
Updates on the fire and emergency shelters can be found here.
Residents looking to cool off near the fire can go to the Campo-Morena Village Library at 31356 Highway 94 in Campo. The library was closed Monday but was open as a cool zone from 10 a.m. to 6 p.m. Find a complete list of cool zones here.
Big flames continued to burn Tuesday on the east portion of the fire.
Four outbuildings have been destroyed, but no homes have been damaged as of Sunday night. One firefighter suffered heat-related injuries while working in triple degree heat, but is expected to be okay. Another firefighter suffered heat-related injuries and another suffered a knee injury.
Monday, 40 engines and 15 to 20 hand crews assisted in the fight against the fire, which moved quickly over the rugged and steep terrain near Potrero, 45 miles east of San Diego.
[G] Border Fire Scorches 7,609 Acres East of San Diego
San Diego Sheriff's officials said 48 of their deputies are assisting with security patrols and traffic controls in the evacuated and fire areas. Two ASTREA Bell 205 fire-rescue helicopters are making water drops; each copter has a 375-gallon belly tank.
Cal Fire officials said the biggest challenge Monday will be the heat and making sure crews stay safe.
Schools in the Mountain Empire Unified School District will be closed Monday, the district announced.
The fire broke out Sunday morning around 11:30 a.m. near Highway 94 and Highway 188, north of Tecate, Mexico, and west of Campo.
At first, Cal Fire crews reported the fire at 3 to 5 acres with a slow rate of spread, not threatening any structures. The fire jumped Highway 94 in a matter of hours and continued rapidly spreading from there.
@CAL_FIRE Taken from my home in Tecate. Stay safe. #BorderFire pic.twitter.com/dvXjOjSU1k

— Bound by a Line (@BoundBya_Line) June 19, 2016
"As we came out of Potrero, there was fire on both sides of the road, so I guess it was a good thing we got out when we did," evacuee Andy Lindsay said at the evacuation location on Sheridan.
Lindsay spent six days in an evacuation center during the Harris Fire in 2007. In 2007, the Harris Fire burned more than 90,000 acres in the same area, killing one person and badly burning another. The fire also destroyed 253 homes.
"Hopefully we won't be here for five or six days like we were last time," he said.
Sunday night the California Governor's Office of Emergency Services secured a Fire Management Assistance Grant from the Federal Emergency Management Agency to help ensure the availability of vital resources to suppress the fire.
The FMAG also enables local, state and tribal agencies to recover eligible costs.
Record-breaking heat across San Diego County was expected to continue Monday as a heat wave passed through Southern California. NBC 7 Meteorologist Jodi Kodesh forecasted valleys in the low 100s, mountains in the upper 90s and deserts with highs at 119.
The National Weather Service said an excessive heat watch will be in effect for parts of San Diego County and Imperial County, including valleys, mountains and deserts, from Sunday morning through next Thursday evening.
Communities that will feel the heat the most include: El Cajon, Santee, La Mesa, Poway, Pine Valley, Julian, Escondido, San Marcos, Lake Arrowhead and Big Bear.
If you have photos or videos of the fire, please send them to isee@nbcsandiego.com.
@nbcsandiego pic.twitter.com/m1icVRTr0X

— lori_wags2 (@kaslins) June 19, 2016