San Diego County will see widespread rain Thursday as a slow-moving, late-winter storm continues to blanket the region.
Many parts of the county saw rainfall overnight and early Thursday – a continuation of the storm system that brought scattered showers throughout Tuesday night and Wednesday.
In her First Alert Forecast, NBC 7 meteorologist Dagmar Midcap said San Diegans can expect widespread, mostly moderate rain on and off Thursday, plus snow in our mountains and westerly winds.
NBC 7 meteorologist Sheena Parveen said the slow-moving storm system is expected to bring the heaviest of Thursday's rain throughout the first half of the day, with showers likely through lunchtime.
In the afternoon, Parveen said there should be a period of dry weather, much like Wednesday afternoon.
"We put on rain boots and everything," said a smiling Morgan Guerra, who watched as her daughter Valentina played on a Jungle Jim in Solana Beach.
The boots came off, when the sunshine stuck around.
"A nice surprise, definitely," said Guerra.
Not far from where Valentina played, Barbara and Mo Winicki sat in beach chairs, enjoying a picnic lunch. "We planned everything around the weather forecast, which didn't happen," said Barbara. "We're good with that."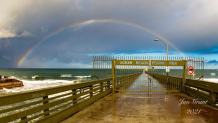 She said parts of the county had already seen more than an inch of rainfall Wednesday and on Thursday, another 0.10 to 0.75 inch of rain is possible.
"That's really going to help our rain deficit," Parveen said. "That is good news – it's much-needed rain."
Midcap said there's also a chance of hail and thunderstorms, and there's a beach hazard statement in effect for possible lightning over the open waters through Thursday.
Parveen said leftover showers will linger into Friday morning as the atmosphere remains "unstable," not drying out completely until the weekend.
NBC 7 spoke with a few out-of-towners in Pacific Beach Thursday who definitely weren't expecting to see heavy rain during their visit to San Diego.
Mary Alati, a special education teacher from Phoenix, Arizona, said her school is on spring break, so she and her husband decided to visit San Diego to spend time on the beach.
"It's been very taxing, mentally and physically and so I – we have spring break – and my husband and I had no plans, so we just decided to get away and enjoy the ocean," Alati said.
The pair spent several hours on the beach Wednesday enjoying the break in the rain. On Thursday, they planned to do the same – but with an umbrella.
"It's a bummer but I have my umbrella and I brought lots of socks," Alati said with a laugh.
Chicago resident Erin Passmore arrived in San Diego Wednesday but was also able to enjoy some sunshine between showers that day. On Thursday morning, though, the story was different.
"I actually thought, 'What is going on out there? At 5 a.m. it was like the heavens opened up and it just started pouring," she said.
"I'm just hoping that Mother Nature gets the message and clears these clouds and brings me some sunshine," Passmore said. "We all need sunshine."
Passmore packed typical San Diego clothing – flip-flops and tank tops – but was thinking about shopping for warmer items on Thursday.
Winter Storm Watch: Snow in San Diego's Mountains
This week's storm is bringing substantial snowfall to San Diego's mountains.
The National Weather Service said a winter storm warning remains in effect through 10 p.m. Thursday for all mountain areas in San Diego County with snow levels around 3,500 feet.
The NWS said on top of the heavy snow already occurring in the mountains, additional snow accumulations of 3 to 7 inches – with localized amounts of up to 12 inches – are expected Thursday.
Parveen said over 6 inches of snow was expected in areas above 4,500 of elevation and up to 12 inches in areas above 5,500 feet. Visibility will be impacted on mountain roads and motorists should take extra precautions on snow-slickened roadways.
The NWS said that as of 6 p.m. Wednesday, Palomar Mountain had gotten 5.5 inches of snow. Lake Arrowhead had gotten 10 inches.
As of 9 p.m. Thursday, Parveen said Palomar Mountain had gotten 17 inches of snow, while Mount Laguna had gotten 11 inches and Julian 18 inches.
During the storm on Wednesday, Caltrans announced all vehicles traveling on state Route 79 from Cuyamaca Road to Julian and those traveling on state Route 78 from Banner Grande to east of Wynola Road would be required to use snow chains on their tires.
For updates on road conditions, drivers can call the Caltrans Highway Information Service at (800) 427-7623.
Due to the difficulty of travel created by the storm and in the interests of public safety, county school officials from the Julian Union Elementary School District, Mountain Empire Unified School District and Warner Unified School District said all students would participate in distance learning on Thursday. The Julian High School District, however, announced that classes would be canceled Thurdsay.
Parveen said the snow would continue in San Diego's mountains through Friday morning but dry out by the weekend.
---
Rainfall Totals and Impact on San Diego's Rain Deficit
It has been a dry winter in San Diego County (and across California) so, just like last week's storm, the rainfall this time around is helping to chip away at the rainfall deficit we're still experiencing in our region.
"We're still in a deficit – in quite the hole – and we still need the rain," Parveen said earlier this week.
As of Monday, Parveen said the region was facing a rainfall deficit of -2.28 inches, measuring from the station at San Diego International Airport.
She said the storm – over the course of Wednesday and Thursday, combined – could bring between a half-inch to 1.5 inches of rainfall across the county.
The NWS shared its latest rainfall totals recorded as of 7 p.m. Thursday. Some measurements included:
Rancho Bernardo: 1.28 inches
San Ysidro: 0.98 inches
Oceanside: 1.14 inches
Alpine: 1.12 inches
Vista: 1.21 inches
Escondido: 1.24 inches
Bonsall: 0.99 inches
Brown Field: 0.75 inches
Del Mar: 0.93 inches
Lemon Grove: 0.92 inches
Dulzura Summit: 0.75 inches
Cole Grade Road: 1.32 inches
De Luz: 0.59 inches
Skyline Ranch: 1.19 inches
Lake Wohlford: 1.09 inches
Otay Mountain: 0.82 inches
Ramona: 1.07 inches
Encinitas: 0.74 inches
Fashion Valley: 1.09 inches
Lake Murray: 0.79 inches
Valley Center: 0.91 inches
El Cajon: 0.77 inches
Linda Vista: 0.64 inches
University Heights: 0.90 inches
Point Loma: 0.44 inches
Poway: 0.79 inches
La Mesa: 0.83 inches
Mission Beach: 0.73 inches
San Diego International Airport: 0.67 inches
Santee North: 0.88 inches
Kearny Mesa: 0.71 inches
La Jolla: 0.36 inches
San Onofre: 0.23 inches
Carlsbad: 0.59 inches
The NWS will post updated rainfall and snowfall totals here later.