A Naval officer and father of five was found dead in his room at an air base in Qatar, military officials said.
Cmdr. Christopher E. Kalafut, 49, of Oceanside died Friday from "a non-combat related incident" at Al Udeid Air Base in Doha, Qatar, according to the Department of Defense.
"He was a very bright, bright student," Stephen Kalafut told NBC 7 Sunday as he recalled his son's time at El Camino High School.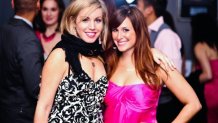 A football player, and band member, Christopher Kalafut eventually married his high school sweetheart, had five children and settled in Atlanta where he worked as a Delta Airlines pilot.
His family was featured by the NBC station in Atlanta in August. Sitting around the table, one of the Kalafut children was brought to tears when asked to describe how much he missed the dad he called "Boss-some." The nickname combined "boss" with "awesome."
Stephen Kalafut says his son knew early on what he wanted to be.
"His goal that he put on paper when he was in 7th or 8th grade was that he wanted to be an engineer, and he wanted to be a commercial pilot. And he eventually accomplished both of those," Stephen Kalafut said.
Kalafut's death is under investigation. The U.S. Navy Commander and reservist was recently deployed to the Persian Gulf.
As a father of five boys. Stephen Kalafut says he always tried to prepare himself for something bad to happen but when he found out his son died in a non-combat incident, he says it was an even bigger shock.
"Him being a pilot, I know what type of accidents can happen. And I mentally prepare myself for that to a degree. But in this case, it was a non-flying billet so I don't, you know, I'm like what the hell? I, I don't know," he said.
Kalafut was assigned to Naval Amphibious Liaison Element, Combined Forces Air Component Center, U.S. Central Command, the DoD said.
The commander is the second Southern California serviceman to die last week in the Middle East. Marine Lance Cpl. Sean P. Neal, 19, of Riverside died from another unspecified non-combat related incident Thursday in Iraq, according to the DoD. Neal was based at Camp Pendleton.