Downpours touched down in San Diego County Tuesday from a storm system that had the potential to dump inches of rain over several days.
The storm system produced the first significant rainfall for the Southern California region in months and caused flooding in some areas.
A flash flood watch was upgraded to a flash flood warning Tuesday afternoon, set to expire at 7:15 p.m. The warning was in effect for the region in between Ramona, Mesa Grande, Warner Springs, Pala, Valley Center and Escondido.
The flash flood watch was in effect for inland areas, mountains and deserts until Wednesday night.
The first signs of the storm made their way into San Diego from the U.S.-Mexico border and by the afternoon, some scattered showers had touched down over the mountain ranges and in the far North County, according to NBC 7 Meteorologist Sheena Parveen.
Valley Center was the only community that saw more than 2 inches (2.24), while Ramona and Rincon Springs saw an inch and a half or more. About an eighth of an inch of rain fell in La Jolla, and San Marcos saw .58 inches.
The rain caused flooding on city streets across the county. In San Marcos, Country Club Drive was shut down through the night "at the dip." Flooding also closed down the intersection of Discovery Street and Via Vera Cruz.
Quarry Road in Spring Valley was closed between State Route 125 and Lakeview Road.
The heaviest rainfall was expected between Wednesday evening and Thursday morning, Parveen said.
In Ramona, a lightning strike jolted a pine tree and tipped it over onto a home. In the same yard, a palm tree also went up in flames. At least two neighboring homes lost power after the strike.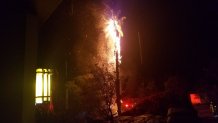 Southern California mountains above 6,000 feet could be topped with snow before the storm system moves out of the area late Thursday, though it is unlikely that San Diego's ranges will get anything more than a dusting.
The stormy weather was a drastic shift from San Diego's hot and dry conditions on Sunday, which prompted a Red Flag Warning for the county.
Between Monday and Wednesday, temperatures were expected to drop about 20 degrees as a cold front from the north clashes with tropical moisture from the south, according to the National Weather Service.
"This sets the stage for widespread rain and areas of heavy rain with mountain snowfall," according to the National Weather Service.
Officials were taking measures to prepare for the storm. The county was offering free sandbags to residents in aniticipation of potential flooding.
#Snow? say what? it is hot right now, yes offshore flow from the Baja system continues but a cold polar storm is dropping down from the north for Tuesday and Wednesday and the 2 will merge for rain, thunder and then cold and mountain snow on Wednesday! #CAWX pic.twitter.com/bj4Bp4VE7n

— NWS San Diego (@NWSSanDiego) November 18, 2019
The city of Encinitas was removing trees Monday in preperation. Six trees were removed on Monday after a study done by an Urban Forestry Specialist found that the trees could fall over in bad weather.
"It looks pretty healthy on top but as you look at the base of the tree they have sulfur conks growing on them, which is a brown rot," said Chris Kallstrand, Urban Forestry Specialist.
Parveen said the storm will bring the first significant rainfall of the fall season, which began on Sept. 23.
This rainfall comes after the National Drought Mitigation Center Thursday designated much of California, including San Diego and Imperial Counties, as "abnormally dry" to "moderate drought" in some areas, for the first time since early 2019.
San Diego has not seen any rain for months, but this coming rainfall probably will not reverse the beginning signs of drought. Two inches of rain would be needed to bring San Diego out of its rain deficit, NBC 7 reported Friday.