You don't need a San Diego Comic-Con badge to get your nerd on with the thousands of guests attending the annual convention this year.
During SDCC, the Gaslamp Quarter becomes a superhero's playground filled with immersive experiences, events and photo-ops themed to match the convention -- and many don't require a badge.
Beware though, although badge-holders may be on the convention floor or inside panels during the day, these off-site activities just outside the doors of the San Diego Convention Center often have long lines.
Here are just a few of the dozens of ways to celebrate your fandom without a ticket to the main event:
The Movie Music of John Williams
Wednesday, 7:30 p.m., Jacobs Music Center
The San Diego Symphony is celebrating the man behind some of the most beloved scores. Just a few notes of a John Williams track can take a movie lover back to the most iconic scenes — like the moment Dr. Alan Grant first lays eyes on a dinosaur or when Lois Lane is swooped out of the sky by Superman. Blockbusters like "Jaws," "Indiana Jones Raiders of the Lost Ark," and "Jurassic Park," just to name a few, would not be the same without his memorable scores. Tickets to this tribute concert start at $35.
Family Con
Wednesday, 4 p.m. to 7 p.m., Liberty Station
Small but mighty superheroes are being called to this party at Point Loma's Liberty Station as the annual pop-culture convention gets underway. Youngsters are invited to dress up in their superhero best for Family Con, which features a costume parade, a petting zoo, a scavenger hunt and more. This free event starts at 4 p.m.
Esports Arena Drive
Thursday, 9 a.m. to 9 p.m., Petco Park in the Park
Test your gaming skills at this mobile gaming arena stopping by Petco Park's community ballpark, Park in the Park, during SDCC. The arena is made of an 18-wheel semi-truck that will unfold to create a stage and VIP lounge perfect for gaming. Guests will be able to test an array of gaming products from HyperX and have the chance to win prizes.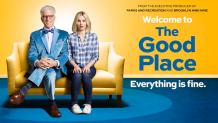 NBC's 'The Good Place' Experience
Thursday through Sunday, Gaslamp Square (near Hard Rock Hotel)
Have a forkin' good time in "The Good Place" neighborhood, "where the shrimp are gigantic and everyone thinks your opinions on Star Wars are super interesting," Good Place host Janet says. Guests will take a brief survey of their "time" on earth in order to receive a customized experience. The survey will be given in line or can be taken in advance here. Inside The Good Place, there will be exclusive giveaways, photo opportunities and a chance to interact with elements of the show.
[NATL-SD]SDCC 2018: Marvel, Star Wars u0026 Other Comic-Con Inspired Dishes u0026 Drinks Debut in the Gaslamp Quarter
'Experience'
Thursday through Sunday, Lexus Premier Lot
An interactive fun zone featuring some of your favorite movies and tv shows is moving in to Petco Park's Lexus Premier Lot to the southeast of the San Diego Convention Center. Taking over what at past cons was called the Petco Park Interactive Zone, Grandesign promises an even bigger, more interactive fan experience for guests with or without an SDCC badge. Badge-holders can partake in the "Experience" as VIP. If this year's event is anything like last year's, the lot will feature food trucks, giveaways and music on top of high-quality interactive experiences from popular movie and television companies. Marvel's "Cloak and Dagger" has already announced an activation at the Experience that will give guests a thrill using a bungee harness, and there is sure to be more to come.
Super Pup Yappy Hour
Thursday, 4 p.m. to 7 p.m., Hotel Republic
Your pups want to get in on the Comic-Con action, too. Head to Hotel Republic's Yappy Hour for a chance to find the perfect costume for your furry friend while sipping on Comic-Con themed cocktails and mingling with other pet owners. There will also be a pet costume contest and a chance to win prizes.
Her Universe Fashion Show
Thursday, 6 p.m., Manchester Grand Hyatt
Enjoy a geeky fashion show featuring couture stylings from both professional and amateur designers. The show's finalists, chosen from hundreds of submissions, showcase original sci-fi and pop-culture inspired designs for a chance to join Her Universe founder, Ashley Eckstein, in creating a new collection for Hot Topic. Fashion and pop-culture fans line up for hours for this free fashion show that may even include a celebrity sighting or two. Seating is first come, first served and the line opens at 1 p.m.
Celebrities to Expect at San Diego Comic-Con 2018
DC Universe Experience
Thursday through Sunday, 9:30 to 7 p.m. (5 p.m. on Sunday), Hilton San Diego Gaslamp Quarter
In what will likely prove to be one of the more popular experiences outside San Diego Comic-Con, DC Universe is bringing dozens of interactives to their activation at the Hilton. For example, fans will get the chance to search for clues to find Dick Grayson, they'll create mayhem with Harley Quinn in her chaos room, traverse the sewers with Batman and view rare DC memorabilia. Guests can register in advance but it will not guarantee admission or speed up the process. Get there early, because the lines for this one will be long.
Hop Con: The w00tstout Festival
Thursday, 7 p.m. to 11 p.m., Stone World Bistro & Gardens (Liberty Station)
Pop-culture enthusiasts and beer aficionados alike will love this suds-tasting event presented by San Diego staple Stone Brewing. For the sixth year during Comic-Con, Stone founder Greg Kock, Fark.com creator Drew Curtis and actor Wil Wheaton will debut a special batch of brew -- this year, it's w00tstout 6.0. The brew is described as a complex-flavored imperial stout made in a pecan, rye and bourbon-soaked barrel. A $75 ticket to this year's event gets attendees 15 three-ounce tastes of w00tstout 6.0 and other Stone creations, unlimited tastings of gourmet bites -- like mac and cheese croquettes, lamb meatball melts and Vietnamese spring rolls -- plus access to lawn games, music and "a few extra surprises."
Comic-Con at the Library
Thursday through Sunday, Times Vary, San Diego Central Library
Even without a badge, you don't have to miss out on SDCC panels this year. Comic-Con is teaming up with the San Diego Central Library at 11th Avenue and K Street for a series of educational panels. Some highlights include a creator panel called "When I See Myself in Comics," a chance to meet the makers behind comic books and a panel on how to comics can make a social impact, just to name a few. To attend without a badge, register online in advance before July 17.
[G]Hello Kitty Cafe Truck to Offer Limited Edition Treats, Collectible Merchandise at San Diego Comic-Con
MythBusters: The Explosive Exhibition
10 a.m. to 5 p.m. (Monday through Thursday) and 10 a.m. to 6 p.m. (Friday through Sunday), Fleet Science Center
Can you pull a tablecloth off a table without disturbing the dishes on top? Do you stay drier running or walking in the rain? Get the answer to some of your burning questions at the new exhibit based on the popular TV show, "Mythbusters." Just like the show, this hands-on exhibit will allow guests to use the scientific method to test some commonly-held theories. Access to the exhibit at the Fleet Science Center in Balboa Park, can be added to a general admission ticket for $5.
Dead Quarters
Thursday through Sunday, 11 a.m. to 6 p.m. (4 p.m. on Sunday), Outside Hilton Gaslamp
Outrun the undead at "The Walking Dead's" off-site SDCC activation. Creators boast an immersive walk-through that will take visitors through the series' settings, including a 22-foot Zombie slide like the one seen in "Fear the Walking Dead."
'Mr. Mercedes' Immersive Experience
Thursday through Saturday, 11 a.m. to 6 p.m., 632 G. Street
Through this off-site activation, guests will choose either to play a virtual reality escape room game or an augmented reality adventure game, both which feature the AT&T Audience Network television series based on the Stephen King trilogy, "Mr. Mercedes." Guests who register in advance will receive a commemorative pin and the chance at a "fast pass."
'Star Trek: Discovery' Gallery
Thursday through Sunday, 11 a.m. to close, Michael J. Wolf Fine Arts Gallery
The Michael J. Wolf Fine Arts Gallery (363 Fifth Avenue) in the Gaslamp will be transformed into an immersive Mirror Universe Experience during Comic-Con 2018. The exhibit will feature a photo opportunity with Emperor Georgiou's throne and will showcase props and costumes from the series. There will also be "Star Trek" Comic-Con exclusives for sale.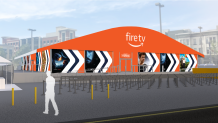 Fast Forward to the Future
Thursday through Sunday, 9 a.m. to 6 p.m. (5 p.m. on Sunday), 7th Avenue and Market Street
Amazon Fire TV is coming to SDCC for the first time, ready to take guests on a journey through the evolution of television. Guests will take a walk through some of their favorite TV shows of past and lounge in immersive rooms from current TV hits, like NBC's "The Good Place" and HBO's "Game of Thrones;" the latter will give guests a chance to take their rightful place on the Iron Throne, if only for the moment. This is also a great opportunity to recharge, as Amazon Fire TV's activation will have mobile chargers and mocktails to sip on.
FXHibition
Thursday through Sunday, Times Vary, Outside San Diego Hilton Bayfront
On the lawn outside the San Diego Hilton Bayfront, FX will present several interactive exhibits featuring some of their most popular television shows, including "Legion," "American Horror Story," "Mayans M.C." and "Archer." Guests can register in advance at FXSDCC.com. The FXHibition is open to the public from 12 p.m. to 6 p.m. on Thursday, 10 a.m. to 6 p.m. on Friday and Saturday and 10 a.m. to 2 p.m. on Sunday.
Adult Swim State Park
Thursday through Sunday 4 p.m. to 2 a.m. (8 p.m. on Sunday), Behind the San Diego Convention Center
Archery, canoes and a mechanical bull hot dog -- it must be Adult Swim. The tv network is bringing nature to the con with a variety of games (open until 8 p.m.), a merchandise store and more to guest 18 and up. Adult Swim State Park will be located at Convention Way and 5th Avenue Pier.
Nerdist House
Thursday through Sunday, Sparks Gallery
The pop-culture and entertainment news brand, Nerdist, is taking over Sparks Gallery (530 Sixth Ave.) with live shows, meet-and-greets, a VR experience and fan parties. Each day will feature a new slate of activities, exclusives and giveaways. For example, on Thursday join in an Alpha Book Club Happy Hour from 7 to 8 p.m. or, on Saturday, a party with food and drink will be held to celebrate the 200th episode of podcast "Bizarre States." More info on the lineup can be found here.
Oddities: Hidden Heroes of the Scripps Collections
Thursday through Sunday, 9 a.m. to 5 p.m., Birch Aquarium
A new comic book-inspired interactive exhibit has opened at the Birch Aquarium to highlight the "superpowers" of some of the ocean's most awe-inspiring creatures. From supervision to an electricity zap -- marine life make amazing adaptations to survive in their environment and the team of scientists at Scripps Institution of Oceanography, UC San Diego want to share what they've learned with you. The exhibit, open just in time for Comic-Con, is available to guests who purchase a ticket to the museum ($18.50 for adults and $14 for children 3 to 17).
SyFy Fan Party
Friday and Saturday, 9 p.m., New Children's Museum
The lines were around the block for SyFy's fan parties at San Diego Comic-Con last year and they hope to make this year's even bigger. With a DJ spinning until 1 a.m. and giveaways galore, this event is a great place to be after other offsite activations and the convention center floor closes. An RSVP is required. Keep an eye on @SyFy on Twitter for details.

Rooftop Cinema Club: 'Pulp Fiction'
Friday, 7:30 p.m., Manchester Grand Hyatt
Enjoy a screening of some of your favorite movies while a picturesque sunset over San Diego Bay peeks over the screen. The UK-based Rooftop Cinema Club's first San Diego location takes guests to the roof of the Manchester Grand Hyatt for a unique film-viewing experience. This Friday, Rooftop Cinema Club is screening the 1994 Quentin Tarantino hit, "Pulp Fiction," starring John Travolta, Samuel L. Jackson and Uma Thurman. The outdoor movie theatre has showings every day of the week except Monday and Tuesday. Tickets start at $17 and include a deck chair and access to the terrace an hour early for sunset photos.
We will continue to update this list as Comic-Con approaches.