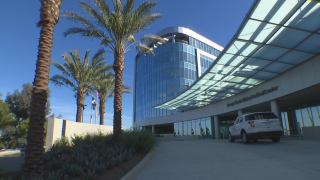 A patient under U.S. Immigration and Customs Enforcement (ICE) custody was discharged from Sharp Chula Vista Medical Center on Wednesday after being tested for coronavirus, a hospital spokesperson confirmed Thursday.
The patient was discharged back to ICE custody where they remain under supervision monitored by the department health, county health officials confirmed Friday.
During the county update on Friday, Eric McDonald, Medical Director of Epidemiology & Immunization Services at San Diego County said two individuals under ICE custody were sent to Sharp Chula Vista Medical Center for evaluation.
"Two individuals in ICE custody were presented to us as possible persons under investigation. We still have test pending for those individuals and they remain under investigation," McDonald said.
ICE sent NBC 7 the following statement:
"At this time, no ICE detainee has tested positive for the 2019 novel coronavirus at the Otay Mesa Detention Center or any other ICE facility.
Out of the abundance of caution, ICE is taking all necessary precautionary measures to ensure all ICE detainees are screened medically at their arrival to our facilities. Medical professionals at ICE detention facilities medically screen all new ICE detainees within 24 hours of their arrival to ensure that contagious diseases are not spread throughout the facility, and elsewhere. As an additional measure of defense, ICE detainees suspected of exposure or infection of certain diseases are medically "cohorted," in line with CDC guidelines and ICE detention standards."
Two patients are currently being treated for the deadly virus at UC San Diego Medical Center in Hillcrest, and several more have been evaluated at the hospital after showing concerning symptoms, according to the CDC.
All of those patients were among the 232 Americans evacuated from Wuhan, China, last week and flown to Marine Corps Air Station Miramar to complete a 14-day federal quarantine.