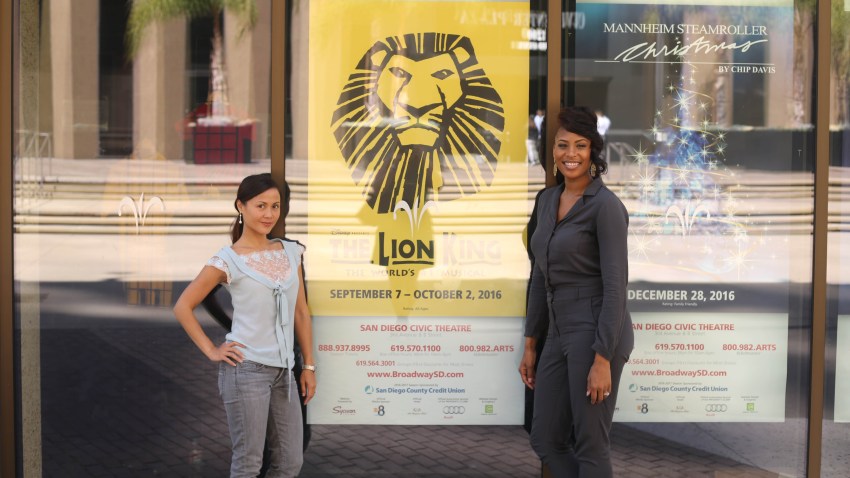 Two Paradise Hills natives on stage together as the curtain rises on The Lion King this month have an unlikely tale of friendship.
Michelle Camaya, an ensemble member, and Chondra Profit, who plays Sarabi, both grew up in Paradise Hills, just miles apart from each other.
But years before the two met while starring in the cast of The Lion King on Broadway, the women had a chance, and brief, meeting: in a high school classroom.
Chondra, a student at the San Diego School of Creative and Performing Arts (SDSCPA), still remembers a very special day in one of her classes taught by one of her mentors, Mr. Robinson: the day Michelle came to visit.
In the early 2000s, SDSCPA alumna Michelle came back to the school to talk about her professional life as a performer in The Lion King on Broadway.
"It wasn't until Michelle came to the class that it made it real and tangible," Chondra said.
Chondra came home and added The Lion King to her vision board, hoping that one day she, too, could join the company.
"I only had Lion King on my vision board after that," she said.
Michelle would have never guessed Chondra would go on to play Sarabi in The Lion King.
Chondra was cast as a swing in the Broadway production of The Lion King several years later, where she covered the role of Nala often. A year and a half later, she was offered the role of Sarabi full time. She was offered a quick break from the Broadway production to come out and perform as Sarabi in San Diego.
But being a part of one of the largest touring productions in America comes with a unique set of physical challenges for both women: mastering the blend between costumes, dance and singing.
"I always say I'm like a walking zoo," said Michelle, who has multiple costume changes a night as a member of the ensemble.
"You have to make the hyena come alive, you have to wear a harness, you have to be in the hyena stance, you have to wear boots and get the posturing and the physicality of the hyena," Michelle said. "You're a performer, basically, dancing in weights."
As Sarabi, Chondra said she gets lucky: aside from a heavy headpiece, her costume/puppet combination is one of the lightest in the show. But what she lacks in costume, she makes up for with more physical movement onstage.
"This show is a little taxing because it's very involved with your body," she said. "Vocally, the music in the show is amazing, it's very intricate, so you have to be to be vocally on point."
Now that The Lion King is back in San Diego, both Michelle and Chondra have the opportunity to perform in front of the community that lifted them up as performers.
"It's just great; it's great to be home and be around the people who really get you and who have been instrumental in getting to me where I am," Chondra said.
On opening night Thursday, Chondra's extended family came out to see the show – something she did not think would realistically be possible.
"The honest thing is that realistically, they would never be able to get to New York, all of them, to see the show," Chondra said. "It's amazing."
For Michelle, a current San Diego resident, performing in the show in San Diego for the first time means having some of the Fillipino-American community she has been a part of for so many years see her dance. Michelle has been a part of The Samahan Filipino American Performing Arts & Education Center for over 30 years and is now a Vice-President, choreographer, teacher and dancer of the company.
"Lion King has been a part of my life since 2002," she said. "It's literally full circle, from my experience -- I've done it everywhere else but San Diego."
Michelle first auditioned for the show on Sept. 11, 2001. Her first scheduled show back with The Lion King is on Sept. 11, 2016, 15 years later. The whole process has been a circle of life, in its own way, she said.
"To finally do it here, in my hometown, is perfection," Michelle said.
The Lion King runs in San Diego from Sept. 7 to Oct. 2. Purchase tickets here.