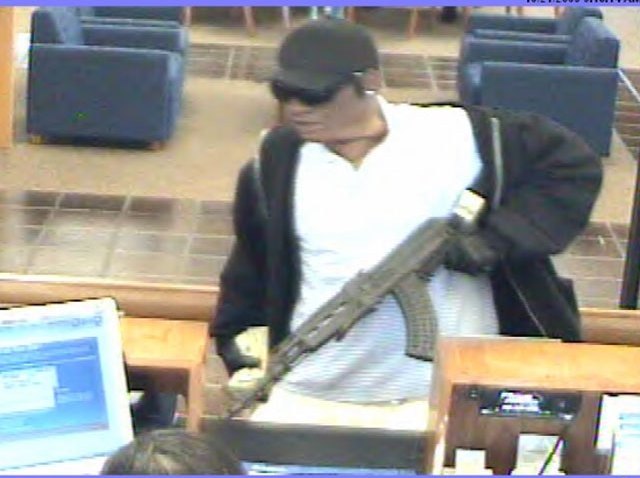 Carrying a semi-automatic rifle with a huge ammo clip in the middle of a crowded street in Pacific Beach wasn't enough to get a bank robbery suspect noticed, according to federal agents.
A bank robber armed with a rifle escaped out the side door of the Chase Bank at 4650 Mission Bay Drive Wednesday just after 9 a.m.
The man, described as 6' 1" with black sideburns and an ear stud in his right ear, carried the rifle into the bank, talked with one of the bank employees, showed the weapon and ordered the employee to the ground according to FBI agents.
At the teller station he demanded cash and started emptying the drawers. While the suspect was shoving money into his pocket, the dye pack exploded, police said. He then ran out of the bank.
"The weapon he was carrying is described as a shoulder weapon, a long rifle with a pistol grip, and a magazine that is described as a banana type magazine," said FBI Special Agent Darrell Foxworth.
After the robbery, employees followed procedure and put themselves inside the vault right after the robbery.
San Diego police officers searched the area around the bank for evidence after the robbery. A pool of dye was spotted on the ground near the bank by news crews.
One worker at a nearby mechanic shop thought all the activity was just a normal day in PB.
"I mean they rob this bank like every other month it seems like, it happens all the time," said Dean Anderson from Robert's Auto Service Mechanic. "And this time the guy had a shot gun supposedly, so we weren't gonna be running around out there looking for him."
The suspect was described as muscular with sunglasses, a long sleeved sweatshirt and a green cap. Anyone with information should contact the FBI at telephone number (858) 565-1255 or www.crimestoppers.com.