San Diego Zoo Safari Park caretakers sent a new image Tuesday to update the growth of its new one-horned rhino calf.
However, it is the recent video of Chutti's introduction to a possible companion in the park's nursery that is grabbing attention.
Chutti was born on Nov. 27 and is being cared for in the Ione and Paul Harter Animal Care Center.
His mom nursed and cared for the newborn for almost two weeks but keepers soon realized he wasn't gaining weight as he should.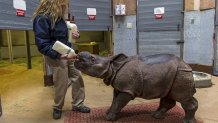 So as he's being handraised (and getting 3 bottles per feeding), staffers have introduced Chutti to Moo Moo Kitty, an Ankole cow.
If the two bond, they could spend time together until Chutti is weaned in 14 to 15 months, zoo officials said.
The one-horned rhino used to be found throughout Southeast Asia, but are only found in India and Nepal now.
The International Union for Conservation of Nature calls the species endangered due to the threat of poaching and illegal use of their horns.
Chutti is the 68th greater one-horned rhino to be born at the Safari Park since 1975.
[G] San Diego's Cutest Critters