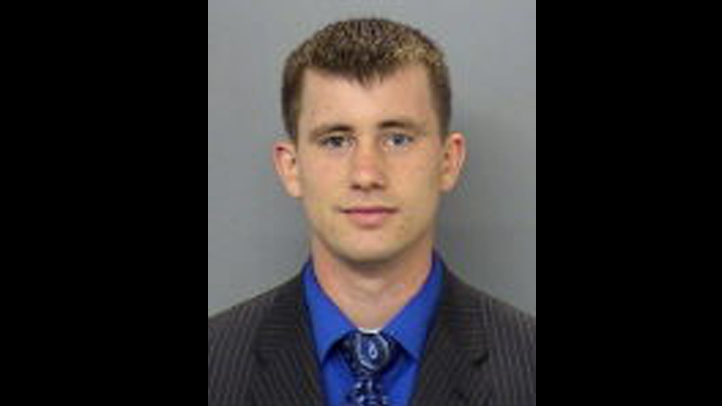 In what is another sad development in recent news for the San Diego police department, an additional member of the force died Saturday in a multi-vehicle accident on Interstate 15.
Officer Jason Prokop, 34, was traveling southbound on I-15 when he was involved in a collision with another vehicle that had been stopped on the freeway, said Lieutenant Andra Brown with SDPD.
One witness said the fatal string of accidents began when a stalled vehicle was hit by another vehicle on the I-15.
"The car in the opposite [direction] of traffic tried to help the guy in the stalled car out," said Marlon Dumbrique, "and that's when he was struck by another car."
Dumbrique said an ambulance had arrived but the stream of cars was not slowing down.
According to reports, Officer Prokop, who was off-duty at the time, got out of his vehicle in order to render aid to the other driver invloved in the collision, at which point he was struck by another vehicle.
"I also saw a car sideswipe another car in the right shoulder lane," said Dumbrique, "I believe that was when another guy was struck."
An exact timeline of the accident was not made immediately available and investigators on the scene said they considered it a complicated case due to how many vehicles were involved.
Prokop, a five-year veteran of SDPD assigned to Central Division , was declared dead at the scene. He scheduled to go into work at 6 a.m., according to officials.
"Everyone in this command, this department, in the community in the family is grieving right now," said Capt. Mark Jones of SDPD at a news conference held later in the day.
NBCSanDiego has learned Officer Prokop had a significant military background as an Army Ranger and combat medic.
A fellow reservist, Staff Sgt. Brandon Arnold, said Prokop had a dedication to service.
"Just the fact that he was a combat medic and a police officer just goes to show that he dedicated his life to helping people," said Arnold. "That's exactly the way, I think, that he would want to go. He gave himself (up) to help others."
Officer Prokop was described by his peers, as a tremendous officer with strong character.
Prokop's death is another in a string a officers who have passed from SDPD and the department's Central Division in particular.
On Aug. 24, off-duty Officer Christopher Blakeley, 26, was killed while riding his motorcycle in Palm City near Nestor.
On Aug. 6, Officer Jeremy Henwood was shot and killed while sitting in his patrol car in City Heights. Henwood, 36, served with the SDPD for four years but during that time served in the U.S. Marine Corps Reserves. The suspect in his shooting, Dejon White, 23, was killed that same evening in a shootout with police.
Also in August, Officer David Christopher Hall was found dead from a self-inflicted gunshot wound at his Linda Vista home, police said.
Just two weeks before that, the department learned of the death of another colleague.
SDPD Detective Donna Williams and her daughter Bree Williams were attacked and killed in their Rancho Penasquitos home on July 18. The detective's son was arrested in their deaths.
"The entire department this past year has been a very tough year but everybody is professional," said Jones. "Everybody knows that we help each other to get through these things and we always do."
"The death of Jason is a tremendous loss to the SDPD and to the community. Jason was a dedicated police officer and will be greatly missed."
The San Diego Police Officers Association has established a trust fund for Officer Prokop's family. Donations can be mailed to:
Officer Jason Prokop Family Trust
c/o San Diego Police Officers Association
8388 Vickers Street
San Diego, CA 92111