A wildfire that sparked amid extreme fire weather conditions in San Diego's North County, destroying homes and forcing thousands of evacuations, is now 50 percent contained.
Cal Fire San Diego officials said Saturday morning that the so-called Lilac Fire -- which first sparked Thursday at around 11:15 a.m. off State Route 76 and the Interstate 15 interchange in Bonsall -- was holding at 4,100 acres.
At last count, officials said the blaze had torched 182 structures and damaged and 23 others. As of Saturday evening, approximately 100 of the structures destroyed were reported to be residences, and there are still 1,500 structures threatened, per Cal Fire.
Full containment is expected to be reached on Dec. 21, meaning a long road ahead for fire crews who have been working tirelessly to prevent more homes from burning.
[NATL-SD] Lilac Fire Burns Near SR-76 and I-15 in North San Diego County
The fire was driven by strong Santa Ana winds and low humidity plaguing Southern California this week. The conditions created a recipe for extreme fire weather danger, sweeping Los Angeles County at the top of the week and, by mid-week, zoning in on San Diego County.
In all, the Southern California fire "siege" sparked six wildfires, all still actively burning. Combined, the fires scorched 180,000 acres in the region, prompting the evacuation of at least 212,000 residents statewide as the flames threatened 25,000 homes.
On Saturday evening Cal Fire reported over 92,000 pounds of retardant and 230,000 gallons of water have been used in fighting the fire.
Over 200 engines, 14 helicopters and 28 hand crews were reportedly helping as well. Fixed wing aircraft may be deployed Sunday, depending on the conditions, according to Cal Fire.

On Friday evening, some evacuees from Bonsall, Oceanside and Vista were allowed to return to their homes as officials lowered mandatory evacuation orders to warnings.
In the three-day firefight, dozens of homes have burned to the ground in the quiet, rural communities known for their farms and ranches. Animals have been killed.
The retirement community of Rancho Monserate Mobile Home Park at the center of where the fire first began was hard hit, with dozens of units destroyed. NBC 7's news chopper captured haunting images of those mobile homes being scorched beyond recognition.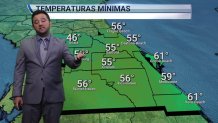 So far, three civilians have suffered burn injuries, while another was hospitalized due to smoke inhalation. Two of those victims suffered burns while trying to save elite training horses stabled at San Luis Rey Downs in Bonsall.
Three firefighters have suffered injuries in the ongoing battle to knock out the Lilac Fire. One of those firefighters dislocated his shoulder, put it back in place and went back to work. Another firefighter was hurt Friday when a tree fell on him as he battled the blaze.
Some road closures remain in place in the Lilac Fire zone. Multiple evacuation centers remain open across the county, taking in evacuees and providing meals and a place to rest.
San Diego County Sheriff Bill Gore estimated at least 10,000 people had evacuated their homes due to the Lilac Fire. By Friday night, the number of evacuees still unable to return home was at 7,700.
Gore said deputies were patrolling evacuated neighborhoods to prevent looting or other crimes while homeowners were away.
As of Saturday afternoon, evacuation shelters included:
Bostonia Park & Recreation Center in El Cajon (1049 Bostonia St.)
Palomar College in San Marcos (1140 West Mission Rd.)
County officials said around 110 evacuees were using those aforementioned shelters. The Del Mar Fairgrounds were still serving as a shelter for large animals, including horses.
California Gov. Jerry Brown has declared a state of emergency for San Diego County, freeing up federal resources as crews battle the blaze. The county has also declared a state of emergency.
Many schools in the fire zone were closed through Friday.
San Diego Gas & Electric said power lines in some areas were de-energized due to the gusty winds; the company was monitoring power outages and posting updates on this online outage map. SDG&E counted between 15 and 20 power poles damaged in the area of the Lilac Fire.
On Friday morning, county officials said more than 20,000 people across the county were without power. By 7 p.m. Friday, county officials said SDG&E reported that power had been restored to approximately 11,500 of those customers, leaving 9,400 still without power.
Weather Conditions
San Diego County is under a red flag warning issued by the National Weather Service (NWS), in effect through 8 p.m. Sunday. This warning means any fires that may develop will spread quickly under fire-prone conditions that include ongoing strong, gusty winds and low humidity. A high wind warning is in effect until 4 p.m. Sunday.
The wind is what led the Lilac Fire to grow by 500 acres in just 20 minutes Thursday, Cal Fire Battalion Chief Mike Mohler said.
Winds decreased Friday, allowing for a slight uptick in humidity levels and helping firefighters gain some ground on the Lilac Fire.
But, the fire zone is not out of the woods just yet.
Steven Harris, a forecaster with NWS San Diego, posted a video on Twitter looking at the conditions San Diego could expect going into the weekend.
He said the region could see another "burst of Santa Ana winds Saturday night and Sunday when we could have another pretty bad day in terms of fire weather threat."
According to NBC 7's weather forecast, winds are expected to pick up at midnight on Saturday and continue to gust stronger into Sunday. Sunday from 7 a.m. to 9 a.m. is expected to be a critical period, with gusts up to 60 mph.
"We'll still have very low relative humidity Sunday, so any fires that are active or start will be susceptible to growing extremely rapidly – especially Sunday," he explained.
By Monday, Harris said the winds will be much weaker and the fire weather threat will decrease to a "minor" level.
Mohler said there are a lot of open fire lines that have not been tested by erratic Santa Ana winds and, even though there is no smoke, the threat is not gone.
"We have what we call sleepers – hidden embers that can be increased by just a slight wind," Mohler said.
As of Saturday evening, Cal Fire said 1409 fire personnel remained on the lines of the Lilac Fire working 24-hour shifts.