A San Diego-based cyber-security company CEO has resigned after social media posts threatening President-elect Donald Trump were reported to the U.S. Secret Service, the company statement confirmed Monday.
Twitter and Facebook accounts tied to Matthew Harrigan, the President & CEO of PacketSled, included comments threatening Trump Sunday afternoon, according to an NBC 7 source.
"I'm going to kill the president. Elect," was one of the posts on Harrigan's Twitter account. It was followed by the comment, "Bring it secret service."
"…getting a sniper rifle and perching myself where it counts," reads a post to Harrigan's Facebook account. "Find a bedroom in the whitehouse [sic] that suits you motherf---er. I'll find you."
In an official statement, PacketSled attributed the comments to Harrigan and said they are taking the situation seriously.
On Tuesday morning, it was announced that Harrigan resigned and the company's board of directors had accepted his resignation.
"Once we were made aware of these comments, we immediately reported this information to the secret service and will cooperate fully with any inquiries," the company's statement reads. " These comments do not reflect the views or opinions of PacketSled, its employees, investors or partners. Our CEO has been placed on administrative leave."
On Harrigan's Twitter account, he posted three comments apologizing for the previous posts.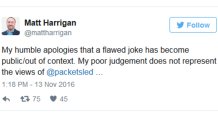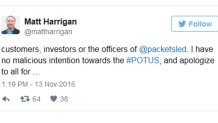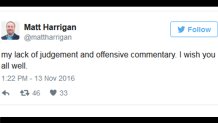 It is illegal to knowingly and willfully threaten to kill, kidnap, or inflict bodily harm upon the president-elect, vice-president elect or their families. Anyone convicted of doing so faces five years in prison and fines.
NBC 7 has reached out to San Diego Police and the local FBI office to ask if Harrigan is facing any charges.
Check back for updates on this developing story.