A man who allegedly killed a woman with a stray bullet on her way home from church was in a San Diego courtroom for the first time Tuesday.
Dionicio Torrez is accused of shooting 55-year-old Catherine Kennedy in March of 2017 with a bullet that was meant for a rival gang member. Torrez is a documented gang member.
He faces one count of murder, one count of attempted murder of rival gang members and two counts of shooting at an occupied vehicle.
The shooting happened on Grand Avenue near Midway Drive.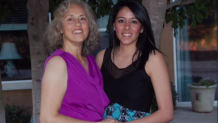 Torrez sat quietly next to his attorney on the first day of his trial as Kennedy's husband and daughter looked on. They say the gang violence in Escondido is only getting worse.
Days after Kennedy's death, the community held a private prayer service at St. Timothy's where she volunteered.
Torrez's trial could last several weeks and may include more than a dozen witnesses.
If convicted, Torrez could face life in prison.