A driver fell 20 to 35 feet trying to escape arrest after a hit-and-run crash in Lakeside Monday, officials said.
Emergency crews found the woman at the bottom of the concrete storm drain in the middle of a small residential neighborhood around 1 a.m.
Michelle Taylor, 40, of El Cajon, crashed a white Honda Accord into two parked cars near Los Coches Road and Del Sol Road, officials said.
One witness said she was awakened by the noise of the crash. Janett Sanchez told NBC 7 she ran outside to see if her new car had been damaged, but there wasn't a driver behind the wheel of the other car.
California Highway Patrol officers said Taylor left the scene of the accident, ran behind a nearby home and jumped over a fence, falling into the storm drain.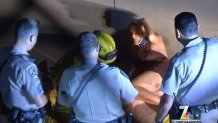 Officials said Taylor was in and out of consciousness after a head injury and a broken ankle. They transported her to Sharp Memorial Hospital for treatment.
CHP officials said Taylor will face driving under the influence and hit-and-run charges.