The transition from teenager to adult can be a time of uncertainty for many, but it's an exceptionally critical time for foster youth who are aging out of the system.
At age 18, kids who have grown up in foster care without a stable support system are suddenly faced with dozens of big decisions that can set the course for their future. A San Diego-based organization called Just In Time for Foster Youth (JIT) is stepping in to help bridge that gap for hundreds of young adults in a powerful way.
Sal Terrones knows first-hand. He entered the foster system in San Diego County in the sixth grade.
"Me and my brother actually felt unsafe in the house that we were in so we went to seek help ourselves by going to a police station," Terrones said.
Terrones bounced from in and out of the court system, and spent the most time with his grandmother in National City.
"As much as she wanted to help me, there was only so much she could actually help me with. So it was definitely very tough," Terrones said.
Despite minimal support, Terrones graduated high school and started college at San Diego State University when he was just 17 years old. That's where he was introduced to JIT.
At first, it was the promise of some the material things that got his attention.
"They're going to give you a free laptop and a free printer and they're going to take you shopping for your dorm," he explained. But he soon realized that the connection the organization offered to him and hundreds of other foster youth was far more valuable than anything money could buy.
JIT Executive Director Don Wells said teenagers like Terrones face serious academic and economic challenges compared to their non-foster peers.
"Historically, former foster youth account for 70 percent of California's inmates, 40-50 percent are homeless within the first 18 months of emancipation, and over half emancipate into poverty, making $6,000 or less annually. Without access to resources and connections, most end up dependent on government assistance to sustain themselves, with enormous public costs that often last a lifetime," Wells said.
Wells said while the resources JIT provides are great, the intrapersonal connections are invaluable and critical to a young person's success.
"So you come for the resources but then you find out that there are all these relationships that will really last longer than any material thing that we give you," he said.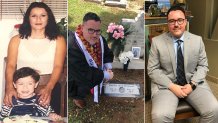 Terrones, like hundreds of other youth served by JIT, was paired with a mentor who would become like family.
"This guy's been life-changing for me. I mean, the amount of stuff he's done for me -- I definitely, hands down would not be where I'm at today if it wasn't for his help," he said. "Growing up, I always heard the people say, you know, 'my parents do this for me, my parents do that for me,' and I couldn't really relate to them. And my mentor has become that person for me."
Along with his mentor, Terrones said he gained a community of support unlike anything he had ever known.
"And the reality is there's absolutely no way I would be where I'm at today without their help," he said.
Wells said the JIT community helps young adults navigate life.
"It's not just one person we're going to connect you with, it's a whole group of people who are doing different things your life…So there might be somebody who helps you get a job and somebody else who shares your interests in movies or somebody else who you really feel comfortable enough to talk about the relationship issues you have," Wells said.
In 2017 alone, with the help of a volunteer network more than 600 strong, JIT assisted more than 760 foster youth ages 18-27 in San Diego County. For Torrones, the Livingston Family has been a key part in his success.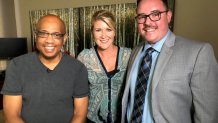 "They really sat down to take the time to say, what's your future end goal within your career and how are we going to get you there?" he explained.
The Livingstons are employing Terrones as a paid intern at their home mortgage company, RWM Home Loans and he's on a path to a full-time job.
"There's nothing that warms your heart more than helping kids that haven't had a family to support them…We have been so pleased with the Just In Time youth that have come to intern here. They have been offered full-time jobs because they work well," Susanne Livingston, Executive VP of Sales and Marketing for RWM Home Loans, said
Livingston says volunteering with JIT has been incredibly rewarding and she's hopeful others will help support this vulnerable group of young adults.
"We need more people that are willing to share their passions, share their career and spend just a little time," she said.
Five years later, Terrones is now a college graduate. Though his laptop and printer are on their last legs, he's confident and connected in a way that has him smiling for the new-found hope in his future.
"I know that any time, no matter day or night, there's at least four or five people within that Just In Time community that I could pick up a phone and call them and somebody will be there to listen to me or to help me," he said.
More than half of JIT's staff is former foster youth and the majority of those were served by JIT at some point. So it may not come as a surprise that Terrones said once he becomes more established in his career and financially stable he wants to give back, volunteering with JIT to help others like him.