What to Know
On April 22 just after 10:30 p.m., downtown San Diego resident Travis Sarreshteh, 32, shot and killed a man on J Street, in front of the Pendry San Diego Hotel, where the victim was working as a valet.
Sarreshteh then allegedly walked up one block, to Fifth and Island avenues and shot at a group of four other men; these victims were wounded but survived.
Sarreshteh was arrested by San Diego police and no one else was hurt; an SDPD officer deployed his taser on the suspect.
On the night of April 22, a man with a gun began firing at people in downtown San Diego's Gaslamp Quarter. Two men decided to chase the suspected shooter and stop him before he could pull the trigger again. Here's their story.
'I Hear Gunshots'
"I hear gunshots, the distinct sound of gunshots, not fireworks, and so I turned. I started walking towards where I heard the gunshots from," Justin Larrabee, one of the good Samaritans, told NBC 7.
When people began running away, Larrabee followed the gunshots.
He saw the first victim on the ground outside the Pendry San Diego hotel on J Street and began following the gunman. As he walked north on Fifth Avenue, Larrabee heard more shots.
"So, I started like running faster, and I heard people as I was running, 'Oh he's on the sidewalk. He has a hood on,' like describing the guy. He, the guy, was just actually literally walking down the sidewalk, just like it was no big deal," he said.
As other people took cover, Larrabee noticed another man following the shooter.
The other man was Matthew McKeon.
They didn't know each other, yet they were on the same page.
McKeon was out buying pizza. He told NBC 7 he witnessed firsthand the moment when the suspect shot four people on Fifth and Island avenues -- the second scene of the shootings.
He said after that, the suspect just kept walking casually up the street. It was at that point McKeon said he knew he had to intervene before more people got hurt.
"That's when I went out to the middle of the street to see where these gunshots were coming from," McKeon said.
He said he saw people running frantically from the area of Fifth Avenue and J Street.
"I don't know if he [the suspected shooter] bumped into some people on purpose or instigated an argument, but someone laughed and he reached into his waistband and starting shooting at the group of people," McKeon said.
McKeon said he then witnessed the suspected shooter casually walk away and knew he couldn't let him get away. So, he began following him.
"It was the right thing to do. He had just shot people right in front of me and at this point, I'm thinking if I don't follow him, there's no police following him, there's no one who will be able to tell who he is at the Gaslamp on a Thursday night where he could just be another face on the street," McKeon said.
"When I got close enough to the guy [McKeon] that was following him, I asked him, 'Is this the guy? And he nodded his head, yeah. So, I just sprinted and tackled him," Larrabee said.
No words were spoken. Larrabee said he never saw the 9mm handgun that police said had been tucked in the man's waistband.
San Diego Police Department Chief David Nisleit said they were then joined by a third person, before officers arrived and struggled to take the suspected shooter into custody, eventually tasering him before being able to do so.
Larrabee said they were handcuffed and put in police cruisers until officers could figure out who was the suspected shooter.
"They were not messing around because there was a gun involved, you know what I mean?" Larrabee said.
Nisleit said the actions of the Good Samaritans may have saved lives.
"It's just instinct. I thought probably more people are gonna get shot you know? So, I figured I'd try to do what I could," Larrabee said.
The chief also thanked a former combat medic, who stepped in and rendered aid to one of the victims who were badly injured.
The suspect has been identified as Travis Sarreshteh, 32, a San Diego resident. He has been charged with murder and four counts of attempted murder.
---
The Shootings
Travis Sarreshteh, 32, was arrested in the shootings. San Diego police said he was unprovoked and referred to the tragedy as an isolated incident.
Sarreshteh has been charged with murder and four counts of attempted murder. According to booking records, he's due in court on May 3.
San Diego Police Department Lt. Andra Brown said that at around 10:30 p.m. on April 22, police received reports of gunfire along the 500 block of J Street at Fifth Avenue, near the Pendry San Diego Hotel. The area is northwest of Petco Park and northeast of the San Diego Convention Center.
When officers arrived, Brown said they found a 28-year-old man down on the sidewalk, in front of the hotel where the victim was working as a valet, according to the hotel and Ace Parking. The man, who was suffering from a gunshot wound to his upper body, died at the scene.
According to witnesses, Brown said, the suspect encountered the victim on J Street and confronted him. Unprovoked, the suspect pulled out a handgun and shot the valet, according to SDPD. As the gunman began to walk away, he quickly turned around and fired again at the man, authorities said.
Police had originally reported that there had been some sort of exchange between the gunman and the victim, but Nisleit later confirmed that was not the case.
"After reviewing security footage and speaking with witnesses, we do not have evidence of a verbal exchange between the victim and the suspect prior to the shooting as initially released," Nisleit said.
Then, witnesses told police the suspect walked north on Fifth Avenue – up one block to Island Avenue – where he had an argument with a group of men. Brown said the suspect again began shooting, hitting four more victims at Fifth and Island avenues. Police said Friday that the victims were known to each other and were visiting from out of town.
The SDPD said three of those four victims were hospitalized. All are expected to survive. Those victims were described as: a 27-year-old man with serious injuries; a 68-year-old man with a gunshot wound to his torso; a 26-year-old man who was shot on the arm; a 28-year-old who suffered an injury to his arm. All of those victims are expected to survive.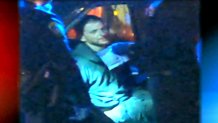 The suspected gunman was arrested; the gun was recovered by police, the lieutenant said.
Brown said police were still interviewing many witnesses who were in the Gaslamp Quarter at the time of the shooting. The area is home to many hotels, restaurants and nightlife.
Police said the suspect was hospitalized for injuries relating to being tasered by the officer.