What to Know
On April 22 just after 10:30 p.m., downtown San Diego resident Travis Sarreshteh, 32, shot and killed a man on J Street, in front of the Pendry San Diego Hotel, where the victim was working as a valet.
Sarreshteh then allegedly walked up one block, to Fifth and Island avenues and shot at a group of four other men; these victims were wounded but survived.
Sarreshteh was arrested by San Diego police and no one else was hurt; an SDPD officer deployed his taser on the suspect.
San Diego police offered more information Friday afternoon about the mass shooting in the Gaslamp Quarter that left one man dead and four others wounded.
Investigators believe Travis Sarreshteh, a 32-year-old downtown San Diego resident, was unprovoked in the shooting, which police referred to as an isolated incident.
Sarreshteh was first captured by two good Samaritans, SDPD Chief David Nisleit said, who were then joined by a third good Samaritan, before officers arrived and took the suspect into custody. Sarreshteh was Tasered by police.
"He is not known to officers," Nisleit. "He is a San Diego resident. We know he actually lives not far from the scene. He is a downtown resident; he does have a criminal history, and that's something we're still taking a hard look at."
Nisleit said the weapon used in the shooting was unregistered.
"It was a ghost gun, or unserialized firearm," Nisleit said, "and it's very concerning. We are seeing a lot of ghost guns."
Sarreshteh was not cooperating with the police investigation, Nisleit said, mentioning that he had invoked his 5th Amendment right.
Nisleit began the news conference with a step-by-step account of how the events unfolded before offering his condolences to the family and friends of the man who died, whose name is being withheld pending family notification.
The chief then went on to thank the citizens who risked their lives to take Sarreshteh into custody, as well as another person, a former combat medic, who stepped in and rendered aid to one of the victims who was badly injured.
"This medic saved that man's life," Niesleit said.
Nisleit said that officers at the scene recovered a 9mm handgun at the scene.
Sarreshteh has been charged with murder and four counts of attempted murder.
The Gaslamp Shootings
San Diego Police Department Lt. Andra Brown said that at around 10:30 p.m. on April 22, police received reports of gunfire along the 500 block of J Street at Fifth Avenue, near the Pendry San Diego Hotel. The area is northwest of Petco Park and northeast of the San Diego Convention Center.
When officers arrived, Brown said they found a 28-year-old man down on the sidewalk, in front of the hotel where the victim was working as a valet, according to the hotel and Ace Parking. The man, who was suffering from a gunshot wound to his upper body, died at the scene.
According to witnesses, Brown said, the suspect encountered the victim on J Street and confronted him. Unprovoked, the suspect pulled out a handgun and shot the valet, according to SDPD. As the gunman began to walk away, he quickly turned around and fired again at the man, authorities said.
Police had originally reported that there had been some sort of exchange between the gunman and the victim, but Nisleit said Friday that was not the case.
"After reviewing security footage and speaking with witnesses, we do not have evidence of a verbal exchange between the victim and the suspect prior to the shooting as initially released," Nisleit said.
Then, witnesses told police the suspect walked north on Fifth Avenue – up one block to Island Avenue – where he had an argument with a group of men. Brown said the suspect again began shooting, hitting four more victims at Fifth and Island avenues. Police said Friday that the victims were known to each other and were visiting from out of town.
The SDPD said three of those four victims were hospitalized. All are expected to survive. Those victims were described as: a 27-year-old man with serious injuries; a 68-year-old man with a gunshot wound to his torso; a 26-year-old man who was shot on the arm; a 28-year-old who suffered an injury to his arm. All of those victims are expected to survive.
Authorities said they have identified the man who died in the shootings, but are not releasing his name at this time.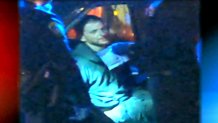 The suspected gunman was arrested; the gun was recovered by police, the lieutenant said.
Brown said police were still interviewing many witnesses who were in the Gaslamp Quarter at the time of the shooting. The area is home to many hotels, restaurants and nightlife.
Police said the suspect was hospitalized for injuries relating to being tasered by the officer.
Sarreshteh has been charged with murder and four counts of attempted murder. According to jail booking records, he is due to appear in court on May 3.