A man hit a tree head-on and died in El Cajon on Sunday afternoon.
First responders were called to N. 2nd Street between Persimmon Avenue and Greenfield Drive in El Cajon around 1:45 p.m. on Sunday, Heartland Fire and Rescue Department said.
Security footage obtained by NBC 7 shows the black 1998 Ford Explorer traveling northbound on N. 2nd Street, then veering toward the center median and hitting a tree head-on.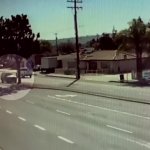 The driver was confirmed dead at the scene, El Cajon Police Department Lt. Forester said.
The driver was a man in his mid-30s. His identity has not yet been released, pending notification of his family, El Cajon Police said.
The cause of the crash has not yet been determined.
Investigators at the scene did note there weren't any skid marks to indicate hard braking.
Both northbound and southbound lanes of N. 2nd Street from Persimmon Avenue to Greenfield Drive will be closed "for a prolonged period of time" during the investigation, police said.
El Cajon Police urged drivers to find alternate routes.
No other information was available.