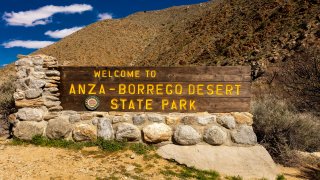 One hiker died and another was in critical condition after requiring a rescue on Palm Canyon Trail in Borrego Springs amid extreme desert heat Saturday afternoon.
It was so hot, a firefighter also required rescuing, Cal Fire San Diego spokesman Capt. Frank LoCoco said.
The evacuation operation began around 12:40 p.m. Saturday, when the low-humidity heat rose to about 115 degrees. Worsening matters, the canyon walls trap in the heat, creating hot-box conditions in some places.
One hiker died to the scene and the other was transported to the hospital in critical condition, LoCoco said.
A Borrego Springs firefighter collapsed in the heat attempting to rescue the hikers, LoCoco said. The firefighter was treated and released on Saturday.
No other information was available.
San Diego County has been under siege of an extreme heat wave that sent temperatures in the deserts soaring past 110 degrees. A heat warning was in effect through Sunday warning residents of the extreme conditions.
On Saturday, the Borrego desert beat its previously recorded high temperatures for that day with a reading of 119 degrees. The desert broke numerous records amid the heat wave; on Tuesday with a reading of 117 degrees, on Thursday with a reading of 118 degrees and on Friday with a reading of 118 degrees.
According to the National Weather Service, heat is one of the most deadly weather hazards. On hot days, the agency urges residents to drink plenty of water, even when you don't feel thirsty; wear loose-fitting and light-colored clothes; spend time in the shade and in air conditioning as much as possible; and th never leave people or pets alone in a car.