Police are searching for three armed men who robbed the San Diego County Credit Union location on South Centre City Parkway in Escondido, Thursday morning.
The men backed their getaway vehicle in front of the credit union just before 10 a.m. and committed what the FBI called a takeover-style robbery. Immediately after entry, the robbers, who were masked and hooded, took out handguns and ordered the employees to the ground, the FBI said.
The robbers pointed their handguns at employees, demanding access to the credit union's vault, according to the FBI. The men emptied one of the bank's trash cans and used it to collect cash from the vault, officials said.
After collecting an undisclosed amount of cash, the men then exited the credit union together in an SUV believed to be a 1980s Chevrolet Suburban, which had been reported stolen earlier in the week, and fled southbound on Interstate 15, according to the FBI.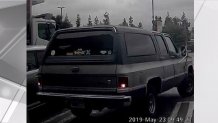 In the surveillance photographs released by the FBI, all three men can be seen wearing hooded sweatshirts, dark pants, masks covering their faces and gloves covering their hands.
The credit union was closed for part of the day, but has since reopened.
Customers were stunned to find out a robbery took place.
"What happened here is absolutely horrible," said a customer.
The FBI is handling the investigation, according to Escondido Police.
Anyone with information can contact the San Diego FBI at 858-320-1800
No other information was available.
Please refresh this page for updates on this story. Details may change as more information becomes available.