Dry conditions and slightly warmer temperatures were expected this weekend before rain arrives early next week, the National Weather Service said Saturday.
Significant rain and snow were expected to hit California early next week, forecasters said. A storm system was predicted to move into central California on Sunday and Monday, progressing south into Southern California early Tuesday, while tapping into some atmospheric river moisture.
"The heaviest precipitation is looking to occur Tuesday afternoon and evening, ahead of and along the cold front," the NWS said.
Slight chances of thunderstorms remain in the forecast for areas over and west of the mountains Tuesday afternoon and evening.
The coast and valleys were predicted to see 0.75 to 1 inch of rain, mountains 1 to 1.5 inches, and the deserts 0.3 to 0.4 inches.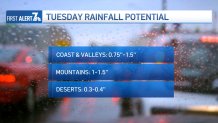 "Snow levels will initially be around 5,500 feet as the storm approaches late Monday night, then increasing to 6,000-7,000 feet as the warm portion of the storm moves over us Tuesday morning and afternoon," forecasters said.
Once the cold front passes Tuesday evening, snow levels were predicted to rapidly drop to 3,500 feet, though precipitation will be more scattered.
The highest snow amounts were expected to be seen at elevations above 7,000 feet, where potentially 1 to 2 feet of snow could fall. Between 5,000- 7,000 feet, 4 to 12 inches of snow was expected. Below 5,000 feet, a trace to 4 inches was possible.
Strong winds were forecast to accompany the storm from the coast to the deserts Monday night through Wednesday morning.
A high wind watch will be in place Tuesday for the mountains and deserts as southwesterly wind gusts have the potential to reach 75mph, NBC 7's Brooke Martell said.
Once the cold front passes Tuesday evening, precipitation was expected to be more scattered through Wednesday morning. Showers were predicted to taper off from northwest to southeast Wednesday morning.
As for this weekend, high temperatures along the coast Saturday were predicted to be 62-67 degrees with overnight lows of 39-47. Western valley highs will be around 66, with 59-64 near the foothills and overnight lows of 35- 42, forecasters said. Mountain highs were expected to be 50-57 with overnight lows of 30-37. Highs in the deserts will be 59-64 with overnight lows of 36-43.
Patchy frost was possible in the inland valleys and high desert Sunday morning.
NBC 7's Jackie Crea spoke to Will Bretz, a San Diego resident who lives south of Alpine in Sloane Canyon.
"When you live out in the foothills like here in the community of crest, you're kind of used to taking those extra steps when you're prepping for incoming weather. That's exactly what first responders and residents in the area are doing to try and get ahead of the storm," Bretz said.
Bretz came to the CAL FIRE fire station in Pine Valley Sunday to grab supplies from fire captain Tom Piranio, at one of the many spots where people can grab sandbags.
CAL FIRE Captain Tom Piranio says, "check your gutters, you want to make sure they are free and clear." The same goes for drains, so that water doesn't pool and flood your home. Or worse—mud.
"Check your car. Check your tires. Check your windshield wipers. Make sure your car is in operating conditions before you drive into those elements, so you don't find yourself in a tough situations," Piranio told NBC 7.