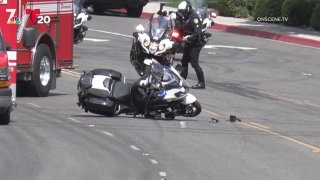 A San Diego police officer was injured Thursday when a driver backed a vehicle into him while fleeing a traffic stop near a Mira Mesa intersection, police said.
The motorcycle officer pulled over a black sedan for unknown reasons shortly before 10:10 a.m. near the intersection of Westview Parkway and Black Mountain Road.
The driver initially yielded, but then took off as the officer continued to follow. The pursuit lasted a couple of blocks before the driver stopped right in the middle of the roadway, slammed on his brakes, put it in reverse, revved up and intentionally ran back and struck the motor officer, SDPD Lt. Andra Brown said.
The officer was knocked over and the driver continued to push him on the roadway.
"It was clearly an intentional act," Brown said.
Police said there were several witnesses who quickly rushed to the officer and helped him before medics arrived. The officer was later taken to a local hospital and has since been released with minor injuries.
"We're grateful that there were people who were willing to come to the aid of our officers as well as provide information about what they saw," Brown said.
The vehicle that struck the officer took off into Westview Parkway and was last seen going northbound on Black Mountain Road.
The vehicle, which was described as a black Chrysler sedan with Arizona license plates starting with the letters "FTA," was occupied by a male driver and a female passenger at the time of the incident, according to police.
Police have contacted the registered owner of the car and they are not believed to be the person that is in possession of the car. The car is not believed to be stolen and the owner is cooperative with the investigation, Brown said.
The homicide unit is investigating the incident as they do with all serious attempts upon the life of a police officer, Brown said.
The name of the officer involved in this incident is not being released at this time. SDPD said he has been assigned to the Traffic Division Motorcycle Unit for over five years and has been with the department for over 13 years.
Anyone with information on the incident is asked to call SDPD at 619-531-2000 or Crime Stoppers at 888-580-8477.
Copyright CNS - City News Service