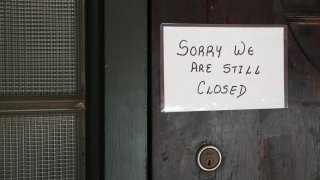 Just hours before California Gov. Gavin Newsom released a plan that gave more control to the state, the leaders of five North County cities urged the state to give local jurisdictions the power to control what businesses should reopen
San Diego County Supervisor Jim Desmond, who has long been critical of public health officials' decisions to restrict business operations, was joined by five North County mayors at the Legoland California Resort theme park to urge the state to reopen local businesses that have been shut down or have been operating at a limited capacity for the majority of the last five-and-a-half months.
Desmond said local leaders wrote a letter to Newsom last week that asked the governor to reopen businesses that were restricted for a second time in mid-July, such as the indoor operations of gyms, salons and places of worship. On Friday, Desmond went further, demanding that libraries, wedding receptions, street fairs, theme parks and live music to be allowed to resume, since those sectors could operate outdoors.
The local leaders also called on the state to give control to individual jurisdictions to decide what industries can reopen and when.
Desmond said the inconsistency in the requirements for what is allowed to be open was frustrating to North County leaders
"People always ask, 'Why is this open?' 'Why is that not open?' 'Why can we go indoors here and we cant get indoors other places?' 'Why am I eating on a dirty sidewalk when it's much cleaner inside the restaurant?' " Desmond said.
Escondido Mayor Paul McNamara added that what should be done is a restructuring of the essential versus non-essential criteria. He said businesses should be given a standard list of requirements that must be met and if they can do so, they should be allowed to reopen despite their non-essential status.
California was in the process of reopening businesses in June when COVID-19 case rates soared, forcing San Diego County public health officials to restart restrictions.
In late June, bars, wineries and breweries that do not serve food were shut down for a second time -- just weeks following their reopening. The goal was to prevent San Diego from being placed on the state's monitoring list, which would force even more restrictions on businesses.
A week later, however, the county halted indoor operations at restaurants, museums, wineries, tasting rooms, theaters, zoos, museums and family entertainment centers. But days later, the inevitable occurred and San Diego was placed on the state's monitoring list, and the state ordered gyms, salons and places of worship to halt indoor operations too.
While San Diego County has been removed from the state monitoring list after bringing down its case rate -- less than the 100 cases per 100,000 residents 14-day average over a three-day period -- county officials said they could not make decisions on reopenings themselves and were awaiting guidance from the state.
That guidance came on Friday in the form of a gradual reopening plan that would move counties through a four-tier system, depending on the number of positive cases and the percentage of positive tests. The announcement left much to be desired for some, though, who want to know which businesses will be allowed to reopen when a county reached a certain tier.
Legoland president Kurt Stocks said the park was an example of a business that was not allowed to reopen because it didn't qualify as essential but could limit capacity, require facial coverings guests over the age of 3, provide increased sanitation and outdoor dining, and close indoor activities.
The leisure industry in Carlsbad, where Legoland California Resort is located, employs about 20,000 people and generates around $28 million in transit occupancy tax revenue to the city each year, with Legoland being a major driver, Carlsbad Mayor Matt Hall said.