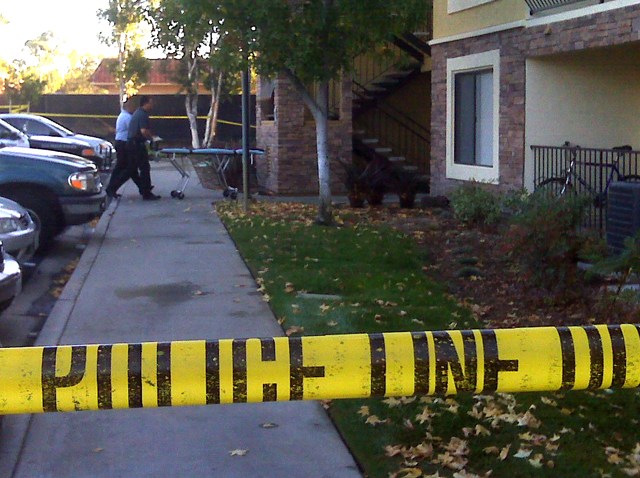 San Diego police homicide detectives, investigating the stabbing death of a Rancho Bernardo woman whose attack was overheard during a cell phone call with her mother, have arrested the woman's next-door neighbor and booked him on a murder charge.
San Diego police received a call from the unidentified woman's mother in Ohio, who was worrying about her daughter's welfare. Using a master key, they entered the woman's apartment in the 15900 block of Avenida Venusto and found her inside, dead from multiple stab wounds.
The 28-year old woman was in the parking lot of the apartment complex and on the phone with her mother about 4:45 p.m. Thursday when the mother heard a man's voice, sounds of a struggle and her daughter screaming before the line went dead, San Diego police Lt. Kevin Rooney told the North County Times.
On Friday, Rooney said investigators had arrested Richard Saldivar, 40, the victim's next-door neighbor, in connection with the case.
Police were seen towing a car belonging to a Lorna Saldivar.
The victim lived in a corner apartment on the bottom floor of a three-story building. Saldivar is the victim's neighbor and lives in a ground floor apartment with his wife and children.
Detectives found Saldivar around 10 p.m. Thursday sitting in his car in the parking lot near the crime scene with his family. They arrested him just after 8 a.m. Friday.
The victim has not yet been positively identified, so her name will not be released.
Saldivar was booked into county jail for one count of murder.