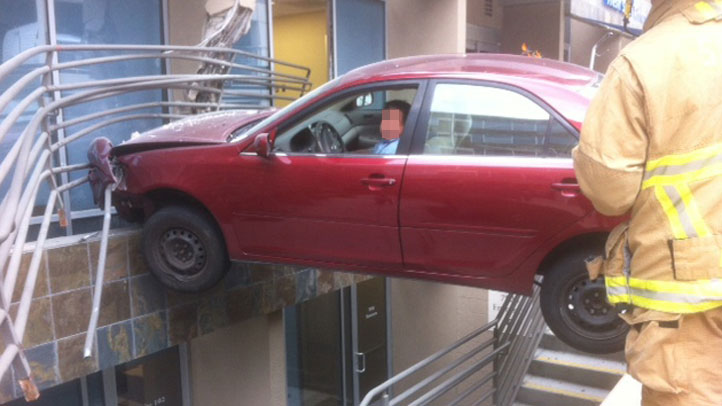 A car was suspended more than 10-feet in the air after it collided into a children's hospital outpatient clinic in Kearny Mesa, fire authorities said.
Firefighters were working to rescue the driver trapped inside the car, which crashed into the clinic on Frost Street at about 9:45 a.m., according to the San Diego Fire Department.
The car's front and back bumpers were hanging onto the curb above a stairwell which descended below the ground. The car accelerated straight through a gate blocking off the stairwell.
Click here to see images of the crash
The parking attendant said the driver was having trouble pulling a ticket from a toll booth several yards away. He was rolling backwards in neutral, then hit the gas, speeding at about 30 miles per hour into the clinic, witnesses said.
"Oh it was very scary, I was scared too," said Parking Attendant Mulugeta Lemlem. "He hit the gas and went all the way down. The people was running, and the road was clear."
Some bystanders said they had to dive out of the way to avoid getting hit by the car. No one was injured though.
"I would've been right in front of his car," said Witness Jody Taylor. "So, he flew through. Almost hit a van pulling out...and then went right into the building."
Taylor described the moment she witnessed the crash, and the shock that followed.
"Instantly it was just like adrenaline kicked in because you see this guy barreling through the thing and it's like you're frozen for a second wondering what's happening."
She said the driver started to unbuckle his seatbelt to get out of the car as it was suspended 10 feet above the ground, but she yelled for him to stay in his car.
"Then you could see the glass in the windows below cracking," Taylor said. "So the security guard, I looked at him, and I said get everyone out of that building, cause you don't know what's going to happen."
The driver was pulled out of the car on a stretcher, and is said to be okay, according to officials on the scene. They added he may have had some underlying medical problems. His daughter arrived to the hospital to take him home Wednesday afternoon.
"Six inches more and he would've gone straight down or through the window, because they said that's an exam room right there," Taylor said.
No one was in exam room directly behind crash at the time. All appointments on that first floor were cancelled for the day, but business will resume Thursday. City engineers inspected the building and cleared it for occupancy, so people on other floors were able to return.
The man's car was removed later Wednesday afternoon.
More Local Stories: