Going to the bank isn't exactly the most pleasant task but what if you could sip a latte and curl up on a couch while handling your financial business? A new café-bank hybrid in San Diego is hoping to prove that's possible.
Banking giant Capital One has been grinding out a new concept across the United States dubbed the Capital One Café. The spaces are a mix between a bank and coffee shop, meant to make the banking experience feel much more casual than ever before.
"We're creating a relaxed, pressure-free environment where you can have a latte in one hand, an iPad in another, and, if you want, a banking expert on-hand," Capital One Market Executive Mike Friedman told NBC 7. "We know money is stressful and we've created a space to try to take away some of that stress."
On Jan. 29, the company will open a 5,229-square-foot Capital One Café in San Diego located 4545 La Jolla Village Dr. in University Town Center.
It's the first one to open locally, and the 35th café of its kind in the U.S. Currently, the company operates several Capital One Cafés on the West Coast, including three in Los Angeles, one in Portland, two in San Francisco and two in Seattle.
The company describes the cafés as being "at the intersection of both the digital and physical worlds," designed to be a space where customers can hang out, check their bank accounts, use the ATM, plan for their financial future and grab a coffee and snack.
Friedman said the San Diego location will be a wide-open, inviting coffee shop featuring a full menu that one might find at a traditional coffeehouse. There will also be comfortable seating, tables, and nooks where patrons can set up their computers and work or use the free WiFi.
Friedman said more of the company's customers are banking digitally these days, but many still value that in-person interaction that one gets from physically going to the bank. Thus, this café concept was born, as a way of redesigning the way customers use the bank.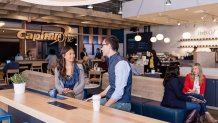 The café will be staffed by both baristas and Capital One "ambassadors" who will be on-hand to answer financial questions. Friedman said those employees will be wearing nametags and casual attire.
Aaron Almada, a Capital One Community Affairs Manager, told NBC 7 the café will also offer a free service called "money coaching," where patrons can sit down with a coach and tap into how they truly feel about their finances. Seminars such as "Talk Money With Your Honey" will invite couples to talk finances with one another under the guidance of a coach.
"We're putting the onus back on the customer and how they want to interact with their bank," Almada explained.
"We want to help people feel comfortable about their relationship with money," Friedman added.
The Capital One Café is open to everybody, regardless if you're a member of the bank or not. However, if you are a member and you use your card at the café, you get some perks, including half-off on coffee.
Friedman and Almada said the menu at the San Diego location will offer drinks created by Peet's Coffee, plus light bites and pastries made by the local business, Pavona Dolci.
If the location is a hit in San Diego, there may be more cafés opening locally in the future.