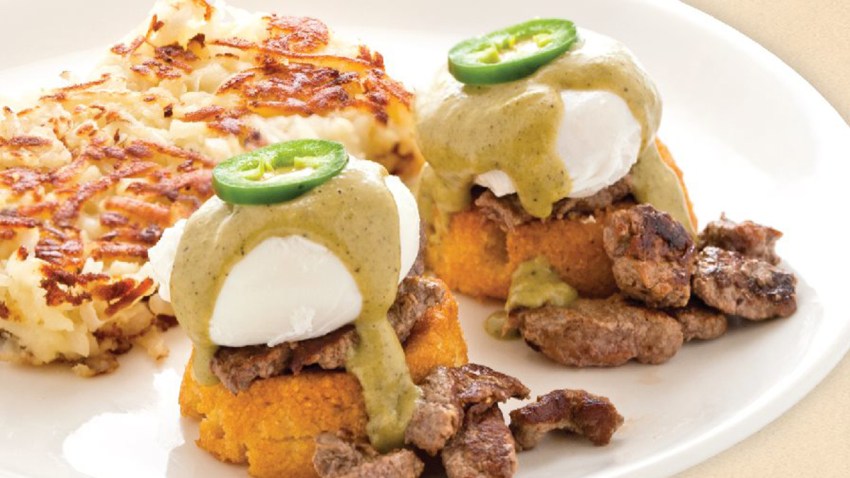 San Diego State University (SDSU) has just added another eatery to the lineup in its new mixed-use complex set to debut early next year – this time, a popular breakfast spot.
The Broken Yolk Café will open a new location at SDSU's South Campus Plaza development, the university announced Thursday.
This marks the Southern California chain's first campus-close location – and the 11th in San Diego County. The SDSU eatery will be a modified version of Broken Yolk's fast-casual format, with both hearty traditional dishes and grab-and-go style options for students.
"We're adding a stable of hand-held, easy-to-eat-while-running-to-class items," explained Valerie McCartney, Broken Yolk Café's Vice President of Franchise Development, in a press release.
Instead of a wait staff, this location will offer counter ordering so students can be served quickly, McCartney said.
Typically, Broken Yolk locations are open only for breakfast and lunch. However, the SDSU location will be open later, giving the university's approximately 35,000 students a chance to grab breakfast for dinner – if they so wish.
"We'll be serving some additional dinner snacks and entrees not found at other Broken Yolk restaurants so it'll make the SDSU location something special," McCartney added.
Broken Yolk Café was founded in 1979 in Pacific Beach and the chain currently operates 19 locations throughout California, Arizona, Illinois and Florida. San Diego County locations include Pacific Beach, of course, the Gaslamp Quarter, Mission Valley and Del Mar, to name a few.
According to SDSU, South Campus Plaza – formerly known as Plaza Linda Verde – is a new, $143 million, mixed-use student housing and retail project on the college campus slated to be completed soon. Construction officially broke ground in November 2014.
The development is located south of the SDSU Transit Center, between Hardy Avenue and Montezuma Road.
SDSU says South Campus Plaza will include housing for more than 600 students who are expected to move into its residence halls during the university's spring 2017 semester.
The retail space also on site is designed to serve both the campus and surrounding neighborhoods, the university says, "creating a pedestrian-friendly destination for shopping, dining and living."
Broken Yolk Café joins two other previously announced tenants also opening up shop in South Campus Plaza: a Trader Joe's grocery store and Eureka!, a restaurant known for its burgers and American comfort food.
The development will also include other retailers and restaurants, which have yet to be announced. Negotiations with additional tenants are ongoing, SDSU said.
The university says the retail portion of South Campus Plaza will encompass more than 34,000 gross square feet. Customers will be able to park in a structure on site that will include 300 parking spots, according to the university. For more details about South Campus Plaza, click here.