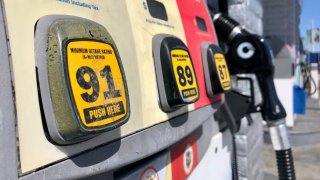 The average price of a gallon of self-serve regular gasoline in San Diego County dropped Sunday for the fifth consecutive day, decreasing 1.1 cents to $5.935.
The average price has dropped 8.3 cents over the past five days, including 2.4 cents Saturday, the largest decrease since March 26, 2020, according to figures from the AAA and Oil Price Information Service. The decreases follow a 35-day streak of increases totaling $1.274.
The average price is 7.8 cents less than one week ago but 96 cents more than one month ago and $1.971 higher than one year ago.
"With the (Strategic Petroleum Reserve) release keeping oil (prices) down, we'll see most/all areas decline over the weekend and into next week," according to Patrick De Haan, head of petroleum analysis for GasBuddy, which provides real-time gas price information from more than 150,000 stations.
How to Save Money on Gas
Here are some tips from AAA to help you save some money at the pump.
Keep your tires properly inflated. Underinflation reduces fuel economy.
Slow down and drive the speed limit. On the highway, aerodynamic drag causes fuel economy to drop off significantly as speeds increase above 50 mph.
Avoid "jackrabbit" starts and hard acceleration. These actions greatly increase fuel consumption.
Avoid extended idling to warm up the engine, even in winter. It's unnecessary and wastes fuel.
Minimize your use of air conditioning. Even at highway speeds, open windows have less effect on fuel economy than the engine power required to operate the air conditioning compressor.
Also, shop around for gas prices, sometimes lower prices are around the corner.