Marine Corps Base Camp Pendleton in North San Diego County spans more than 125,000 acres and contains the largest undeveloped portion of the Southern California coastline in Southern California, which makes it ideal for a variety of military training from the beach to the mountains.
"We want to get as much realistic training as possible," Sgt. Lance Gilson, with the 1st Marine Division at Camp Pendleton, told NBC 7.
One of the ways that U.S. Marines, including Sgt. Gilson, prepare for real-world scenarios is in Military Operations in Urban Terrain (MOUT) towns throughout the base.
"This is set across Pendleton and most military bases," Sgt. Gilson said.
The MOUT towns are simulated towns with buildings -- some small, others with multiple stories, with doors and windows -- along with gas pumps, abandoned cars and motorcycles. Scattered throughout the pseudo-town are clothing lines with items left out to dry and even signage that signals buildings as a "bistro" or "law office."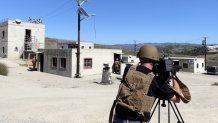 "These are set up so that you've got multiple stories, you have to go upstairs. It's a whole different thing with your rifle," 1st Lt. Katie Miller, also with the 1st Marine Division at Camp Pendleton, said. "There are things littered throughout here, just to bring in the realness of an actual town because it's easy to forget when it's just a bunch of cinder blocks."
NBC 7 got a first-hand look at an urban breaching training event involving the 1st Combat Engineer Battalion, part of the 1st Marine Division, held on Camp Pendleton on Monday, Oct. 16.
"What we're doing is urban demolition training," Sgt. Gilson said. "As you can see with some of the plywood that's been set up, we place explosive charges on it and we breach the building."
Teams of combat engineers came through the MOUT town in waves. They started by approaching the town from the nearby terrain, which were hillsides with thick brush, then when they made it to the town they were told to breach three doors, clear the three buildings then identify a high-value target behind the final door.
"Before you go into an area, you want to get as much intel as possible," said Sgt. Gilson, who estimated he has done this training around 150 times while at Camp Pendleton. "For this certain scenario, we had no civilian considerations. All civilians left, so we weren't really concerned about injuring any civilians, everyone here is a fighter."
However, what those participating in the training didn't know is that when they reached the town, instructors added conflicts for them to work through.
"They're always inducing as much friction as possible," Sgt. Gilson said.
He added that, in this scenario, there was machine gun fire coming from the town. It was not a real machine gun, and none of the combat engineers had loaded rifles; it was a device used to simulate the sound of enemy fire.
"So when it actually comes down to the real-world scenario, that's not something you have to ask yourself about. It's just immediate," Sgt. Gilson said. "You take cover, make sure no one's hit and then once you've got a good, advantageous position, you return fire."
The reason for the added challenges, Sgt. Gilson added, is to not only prepare them physically, but mentally as well.
"What you have to do is get as immersed as possible," he said. "There's that physical aspect but at the end of the day, like throughout everything in life, everything in training you have to be able to build up that mental fortitude."
Training in an urban environment is something that the Marines do at least a couple of times each month.
"At the end of the day, we never know when our nation is going to be in its next war, so we always want to make sure we prepare ourselves to the highest level," Sgt. Gilson said.
"It is hard, but it's worth it and it's worth the reward."
Camp Pendleton is the largest expeditionary training facility on the West Coast, and is one of the U.S. Department of Defense's busiest installations with around 70,000 personnel, according to its website.