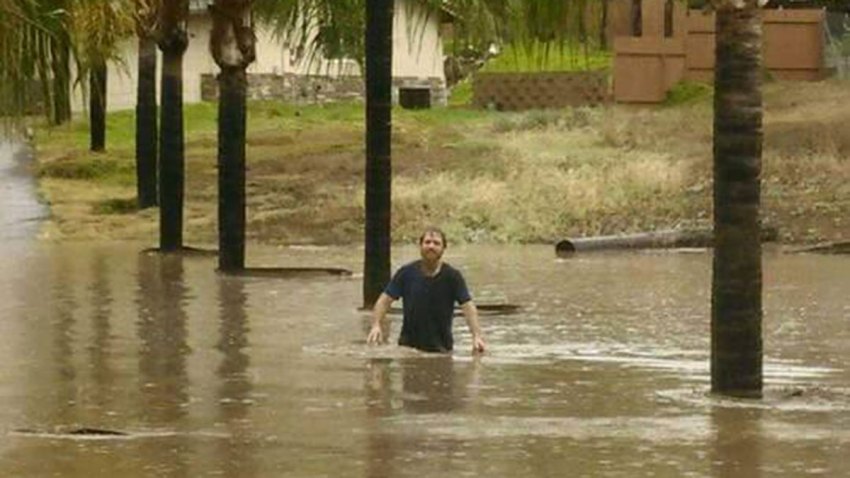 Six California counties, including San Diego, are now under a state of emergency as they dig out from under mudslides and flash floods caused by last weekend's storms.
Lt. Gov. Gavin Newsom issued an emergency proclamation Tuesday for San Diego, Imperial, Kern, Los Angeles, Riverside and San Bernardino counties.
Because the state has been suffering a severe drought, the sudden heavy rainfall let loose dry soil, eroded hills and caused flash floods. The powerful water damaged roads and buildings, even causing the collapse of a bridge on Interstate 10 in Riverside County.
Newsom's proclamation says the storm damage is likely beyond the control of a single local government, so it requires "the combined forces of a mutual aid region or regions to combat."
As a result, Caltrans is ordered to request assistance from the Federal Highway Administration's Emergency Relief Program to get funds for highway repairs and reconstruction.
Newsom also ordered state agencies to use their personnel, equipment and facilities to help relieve those affected by the storm.
In San Diego County, cleanup continues in Ramona — one of the hardest hit local areas. There, the local American Red Cross chapter has set up a shelter at Olive Peirce Middle School, 1521 Hanson Lane.
It will give residents affected by the flooding a clean place to stay, food, clothing, emotional support and health services. Officials say it will be open as long as there is a need.
Videos from the downpour show a storage shed floating down a road and cars submerged in several feet of water. Floods dislodged a golf cart bridge at the San Vicente Golf Course.
Many will be paying for the recovery costs out of pocket because they either didn't purchase additional flood insurance or did not know they needed to buy it.