Former San Diego police officer Christopher Hays will never admit he ever did anything wrong, according to his attorney. But on Friday, he agreed to a plea deal that will most likely keep him out of prison.
At a readiness hearing, Hays, 30, pleaded guilty to felony false imprisonment and two misdemeanor counts of assault and battery under the color of authority by a peace officer. The deal had been in the works for several months.
Still, it doesn't mean Hays is admitting guilt.
"Mr. Hays today did not actually admit to doing anything wrong," said his attorney, Kerry Armstrong.
Ex-Cop's Attorney: Victim Lied to Police
"I'm not saying he's innocent, I wasn't there these nights he contacted these four women. I'm saying that the deal that I got him says that he's not necessarily guilty, but he pleaded guilty because it's in his own best interest," Armstrong added.
Armstrong said the deal was based on legal precedent (North Carolina v. Alford) that allows a person to plead guilty "not because you did it, but because it's in your best interest."
Hays faces up to five years in prison, but Armstrong said a judge made it clear he will not be sending the former officer to prison.
In a quick phone conversation with NBC 7, Hays and his wife Erica said the plea was in the best interest of the family and they plan to move to Arkansas. They said they would make no further comment until after Hays' scheduled Sept. 26 sentencing date.
EXCLUSIVE: Embattled Ex-Cop's Wife Stands By Husband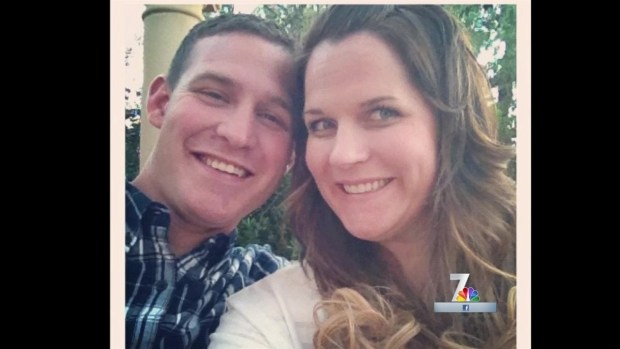 "He pleaded guilty. There's no doubt about that. He pleaded guilty. He will suffer the consequences. He will pay restitution to these women if they ask for counseling, but he's not today, and he's not ever going to admit that he touched them inappropriately, that he assaulted them or anything like that," said Armstrong.
The decision to agree to a plea deal was made after the ex-officer's preliminary hearing in April, where the attorney admitted there was a strong case made by the victims. But despite agreeing to the deal, the attorney sounded somewhat defiant, claiming two of the four victims have warrants out for their arrest.
"I felt that each woman by themselves is a weak case, but obviously all four put together was something that made me nervous as a defense attorney," said Armstrong.
Meanwhile, the attorney for one of the victims known as Jane Doe One said the officer's plea is a clear admission of guilt.
"My client feels very vindicated that officer Hays admitted that the story she told was, in fact, true, that she wasn't lying, that he did, in fact, violate each of those women," said attorney Brian Watkins. "She also feels relieved that she can start to put this behind her."

Published at 3:03 PM PDT on Aug 22, 2014 | Updated at 4:33 PM PDT on Aug 22, 2014