The father of a man facing murder charges in the death of a San Diego police officer said his son was high on drugs and not involved in any plot against law enforcement.
Officer Chris Wilson died in October 2010 during a shootout inside a two- bedroom apartment.
Alex Charfauros didn't pull the trigger, but he is accused of something else that could amount to murder.
"He did great until high school, he was in football, and marching band," said the defendant's father Dan Charfauros.
When Alex turned to drugs and gangs, his father Dan knew it was just a matter of time until he ended up in jail.
"Who you associate with makes a whole lot of difference," he said.
But never did he think it would make the difference in a murder case.
In October 2010, his son was pulled from the apartment he shared with fugitive Holim Lee.
Moments later Lee would shoot Officer Wilson and then himself.
Now, prosecutors contend Charfauros withheld valuable intelligence, lying when asked if Lee was in the apartment and if drugs or guns were inside.
Dan Charfauros said his son was using meth "and he did not know if they were home or not, because he was crashed out."
Prosecutors say they have video evidence Charfauros knew more than he let on.
Their case is built heavily on legal theory called "natural and probable cause."
"They may not have planned the death of this police officer but because they were engaged in conduct where in it was reasonably forseeable, that was one of the forseeable consequences of your conduct - somebody's death, now you're responsible for it too."
"They're trying to prove he did know, but my son didnt' know," Dan Charfauros (pictured below) said. "But they're gonna push and say and everything that he did know."
"Lee is not here to pay the consequences," his father said. "Someone has to pay for it."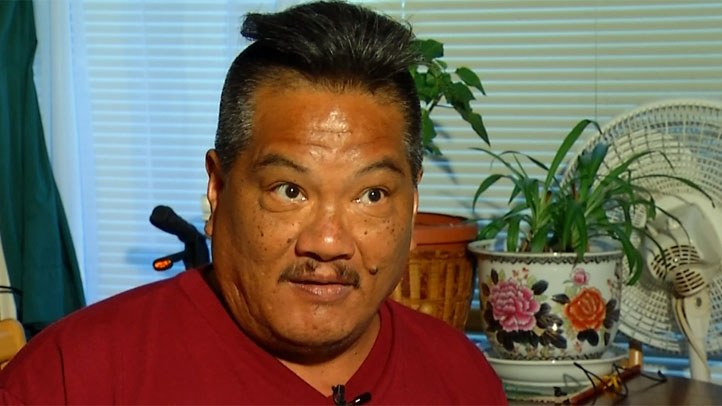 Whether that someone is his son is a question now only 12 strangers can answer. Jury selection in this case continues Wednesday with opening statements expected Thursday or Friday.
The trial is expected to last several weeks.
Published at 1:08 PM PDT on Jul 17, 2013