San Diego Sheriff's deputies confirmed Saturday morning that two people had been found dead after an overnight blaze in a horse ranch in San Marcos.
Firefighters were called shortly before 2 a.m to the 2600 block of Twin Oaks Valley Road, where a home and several of the trailers on the Liz Bolton Stables site were engulfed by flames.
After the fire was extinguished, human remains were located, according to deputies. Detectives from the sheriff's bomb/arson team were called out and are investigating the cause of the fire.
"While the investigation is still in its preliminary stages and things may later change, the Sheriff's Bomb/Arson Unit does not believe it is a criminal act. At this time, the fire appears to be accidental. The cause of the fire is still under investigation," SDSO said.
No animals or firefighters were harmed by the fire.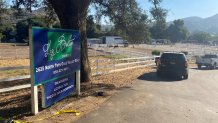 NBC 7 spoke with a friend of the ranch owner Liz Bolton. Jamie La Fortune said Bolton and her two children narrowly escape the flames.
"Her daughter was actually on her phone and apparently seen the lights and looked out the window and saw the huge flames and woke up her mother. Thankfully, her and her brother, they all got out, but they lost everything," La Fortune said.
La Fortune said Bolt told her the two people killed were ranch workers, although officials have yet to confirm the identity of the two people killed.
"They really want to make enough money to be able to send the two boys remains back to their hometown in Guatemala, and then also for Liz," La Fortune said.
In an effort to honor the two staff members lost, the ranch is expected to open again Monday for a kid's summer camp session.
The horse ranch is in an unincorporated area of San Marcos.